Buying the dips is easy, as long as you know which dips to buy. From Wolf Richter at wolfstreet.com:
What would the Fed do?
The Dow fell 4.1% today [Thursday] to 23,860, plunging 480 points in the last hour. This 1,033-point drop was the worst drop since, well, the 1,175-point drop on Monday, which had been, as it was endlessly repeated, the biggest point-drop in history – and irrelevant at these ludicrously inflated levels of the industrial average.
So now:
The Dow has dropped 10.4% from its all-time high on January 26 and has entered "correction" territory (defined as -10% from its recent high) over five trading days.
It closed 385 points below its Monday close: lower lows.
It's down 3.5% for the year and back where it had been on November 29.
All of the 30 Dow components were in the red, with seven dropping more than 5%. Losses ranged from Exxon Mobil (-1.1%) to American Express (-5.6%).
This used to be standard practice after a dizzying surge of the type we had. Unwinding the last 10 weeks of a rally is no big deal. But those spoiled by the record 410-day streak without a 5% selloff are now struggling with letting go of an illusion: that stocks are a low-risk high-reward bet.
But there is something that is starting to get a little ugly. Today's selloff has crushed again the most cherished way of making money in the stock market since the Financial Crisis: dip buying. There were three messy selloffs over a span of five trading days: Friday, Monday, and today; each time, prior dip buyers that didn't get out of the way got slammed.
The S&P 500 dropped 101 points, or 3.75%, to 2,581, about half of it in the last hour. It was the worst drop since, well, Monday's 113 point drop.
The S&P 500 closed 2.5% below Monday's close. Lower lows. Dip buyers crushed.
It's down 3.5% for the year and back where it had been on November 21.
It's down 10.1% and in a correction. The last time the S&P was in a correction ended on February 7, 2016. At the time, it was down 19%.
The selloff is starting to show up on long-term charts. This chart, which captures the bottom of the last crash, shows just how steep the current selloff has been in point terms – 187 points in five trading days – compared to the selloffs since 2009, but in percentage terms it fits right in: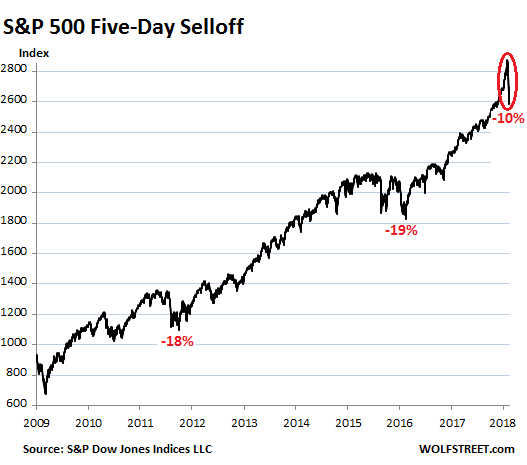 To continue reading: Stocks Get Messy, Dip-Buyers Get Crushed Again