None dare call it corruption. From Tyler Durden at zerohedge.com:
Update (1000ET): Donald Trump Jr. has just raised an interesting question in a tweet: Is Twitter censoring the Hunter Biden stories from the NY Post at the behest of the Communist Party of China?
"There needs to be an immediate government investigation into @twitter/@jack. Not just because of their blatant election interference to protect Biden, but to find out if they're censoring these NY Post stories at the behest of the Chinese Communist Party. Put Jack under oath!!!" Don Jr. tweeted.
We imagine this tweet will be suppressed momentarily, if it hasn't been already.
* * *
Update (1000ET): While Twitter suppresses this latest Hunter Biden expose, it's trending topics section is allowing #EricTrumpsUkraineScandal in one of the top spots. The story is essentially a collection of previously reported comments that even the NYT has now acknowledged isn't accurate.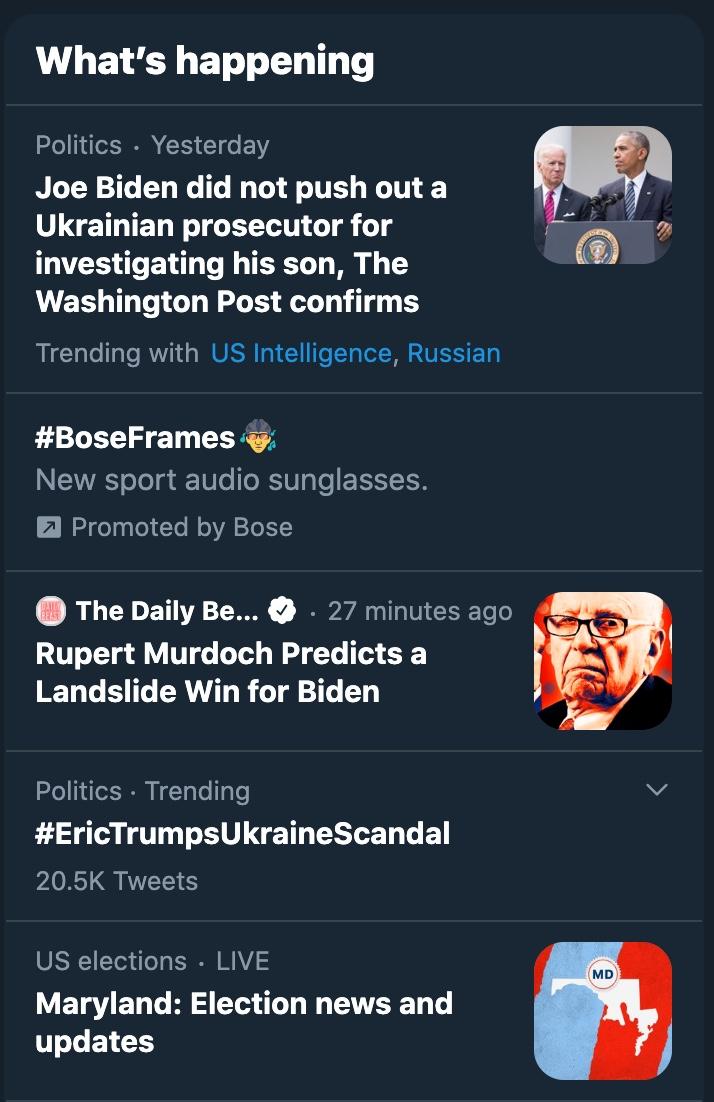 The 10 top political topics were overwhelmingly 'anti-Trump'.
* * *
Update (0935ET): Despite last night's "apology" from Twitter CEO Jack Dorsey, Twitter and Facebook are already censoring Thursday's latest Hunter Biden exposé from the NY Post.
Congress is demanding an explanation, yet Twitter and Facebook are moving ahead with their outright censorship.
* * *
Rudy Giuliani hinted last night that there would be more emails from the trove discovered by a Delaware computer repair shop owner (who has shared his story on the record with Fox News). And at 0500ET, the NYPost published another lengthy exposé – at least the second front-page piece in what is shaping up to be a fascinating series – citing never-before-seen emails between Hunter Biden and various individuals connected to a major Chinese energy firm that failed earlier this year after its chairman – a party insider with deep ties to China's military – was "disappeared" by China's state security apparatus.