They are doing everything they can think of to hamstring President Trump in this Thursday's debate with Joe Biden. Foreign policy won't be a topic because that would be an opportunity to bring up Hunter Biden's laptop. From RT News at rt.com: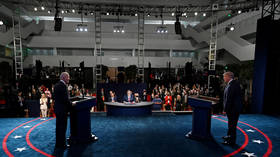 The final debate between Donald Trump and Joe Biden will not include foreign policy as a topic, a decision for which the president's campaign has slammed the commission, especially after the recent Hunter Biden allegations.
"Good morning to everyone except Presidential Debate Commission members who changed focus of final debate away from foreign policy," the Trump campaign's senior adviser Jason Miller tweeted on Monday morning.
Miller theorized the topics were steered away from foreign policy "so Joe Biden wouldn't have to answer to being compromised by the Chinese Communist Party, supporting endless wars and sending pallets of cash to Iran."