The US's regime change chickens have come home to roost. Needless to say, the CIA's approved candidate won the staged election. From Nebojsa Malic at rt.com: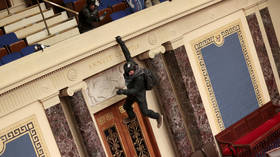 A crowd of protesters stormed Congress protesting a presidential election they claimed had been fraudulent. When this happened in Serbia in 2000, the US called it democracy. When it happened in Washington, DC – not so much.
Scenes from the US Capitol on Wednesday, as protesters backing President Donald Trump disrupted the joint session of Congress meeting to certify the election of Democrat Joe Biden, looked very much like Belgrade in October 2000.
The sight was later repeated in Ukraine – twice, in 2004 and 2014 – Georgia, Moldova, Belarus, and several Central Asian former Soviet republics. On every occasion, the US backed the "people power," because American NGOs and embassies were supporting what became known as "color revolutions."