Pepe Escobar parses out the distinction between a rules-based order and a law-based order. From Escobar at The Asia Times via zerohedge.com:
The West's "rules-based order" invokes rulers' authority; Russia-China say it's time to return to law-based order…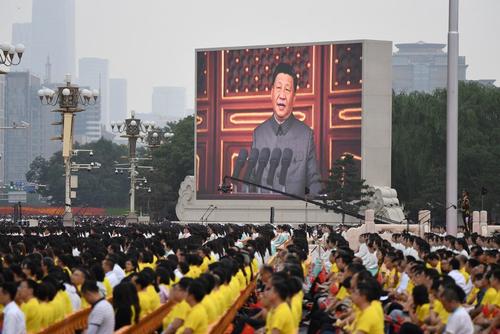 We do live in extraordinary times.
On the day of the 100th anniversary of the Chinese Communist Party (CCP), President Xi Jinping, in Tiananmen square, amid all the pomp and circumstance, delivered a stark geopolitical message:
The Chinese people will never allow foreign forces to intimidate, oppress or subjugate them. Anyone who tries to do this will find themselves on a collision course with a large steel wall forged by more than 1.4 billion Chinese.
I have offered a concise version of the modern Chinese miracle – which has nothing to do with divine intervention, but "searching truth from facts" (copyright Deng Xiaoping), inspired by a solid cultural and historical tradition.
The "large steel wall" evoked by Xi now permeates a dynamic "moderately prosperous society" – a goal achieved by the CCP on the eve of the centennial. Lifting over 800 million people out of poverty is a historical first – in every aspect.
As in all things China, the past informs the future. This is all about xiaokang – which may be loosely translated as "moderately prosperous society".
The concept first appeared no less than 2,500 years ago, in the classic Shijing ("The Book of Poetry"). The Little Helmsman Deng, with his historical eagle eye, revived it in 1979, right at the start of the "opening up" economic reforms.
Now compare the breakthrough celebrated in Tiananmen – which will be interpreted all across the Global South as evidence of the success of a Chinese model for economic development – with footage being circulated of the Taliban riding captured T-55 tanks across impoverished villages in northern Afghanistan.