If the US has the capability of stopping Russia's hypersonic missiles, it's one of the best kept secrets in American military history. From Tyler Durden at zerohedge.com:
Russian President Vladimir Putin previously the Zircon hypersonic missile as capable of traveling upwards of Mach 9, or about 6,900 mph and a distance of 1,000 kilometers (621 miles). The experimental hypersonic has been increasingly made public this summer, particularly after it was successfully test-fired from a warship on White Sea off the northwest coast of Russia.
Russian media is now widely reporting the hypersonic for the first time will be fitted to the country's warships, marking the first time it will ever be "routinely deployed".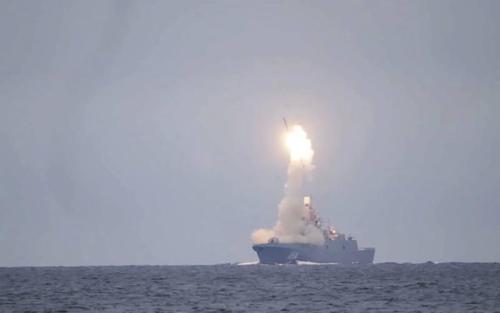 Earlier this week Russia's Defense Ministry announced a deal was finalized with rocket design bureau NPO Mashinostroyenia to roll out with Zircon hypersonics which can be easily deployed aboard warships.
"A government contract on the delivery of the 3M22 missile (the Tsirkon hypersonic missile) has been signed. The contract has been handed to CEO of the Research and Production Association of Machine-Building Alexander Leonov at the [Army-2021] international military-technical forum," the Defense Ministry's press statement said according to RIA Novosti.