The possibility that China would use its overseas commercial ports for political and military purposes cannot be dismissed. From Judith Bergman at gatestoneinstitute.org: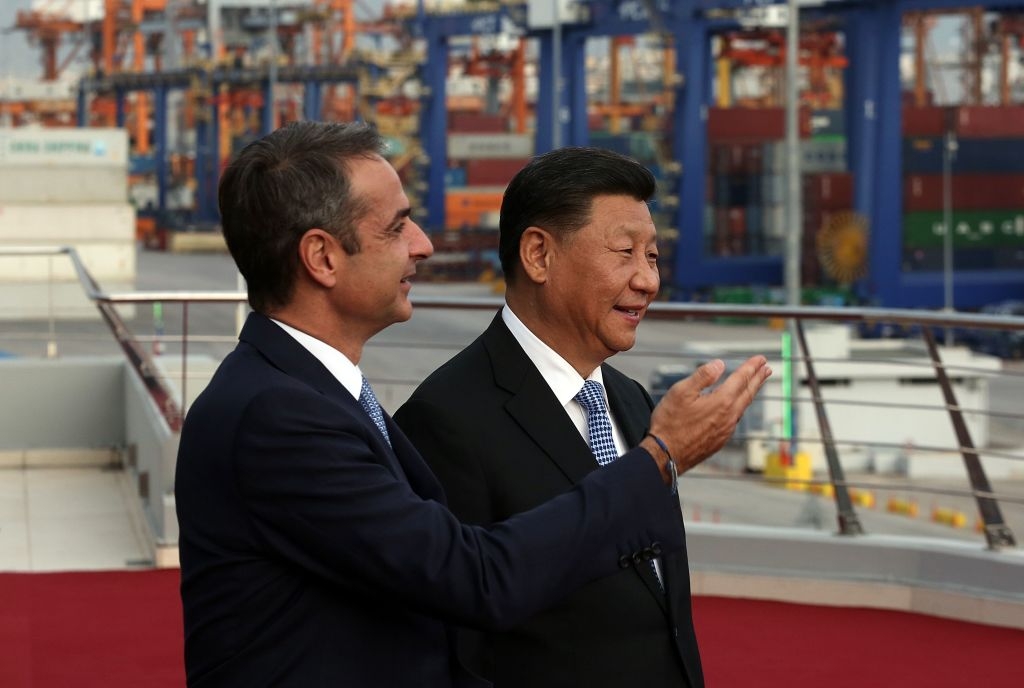 A grave concern regarding China's investments in and ownership of ports worldwide is that this creates economic and political leverage for the Chinese Communist Party that can affect local policy and decision making. After China acquired much of the port of Piraeus, Greece blocked an EU statement criticizing China's human rights record…. prevented a unified EU statement against China's behavior in the South China Sea… and opposed tougher screenings of Chinese investments in Europe. Pictured: China's President Xi Jinping (right) and Greek Prime Minister Kyriakos Mitsotakis visit the port of Piraeus, Greece, on November 11, 2019. (Photo by Orestis Panagiotou/Pool/AFP via Getty Images)
China, through investments in and ownership of ports, is expanding its global maritime reach, and its appetite for ports shows no signs of diminishing. As of July 2020, Chinese firms reportedly "(partly) owned or operated some ninety-five ports across the globe."
Out of the 95 ports, 22 are in Europe, 20 in the Middle East and North Africa, 18 in the Americas, 18 in South and Southeast Asia, and nine in sub-Saharan Africa. Just three Chinese companies, among them COSCO Shipping Ports and China Merchants Port, two central state-owned enterprises (SOE), account for the operations of 81% of those ports.
In China, COSCO is designated as one of 53 "important backbone state-owned enterprises", according to a February 2021 report by the Australian Strategic Policy Institute (ASPI). The report states:
"COSCO's status as an important backbone SOE means that it's uniquely beholden to the CCP in a way that other SOEs aren't… COSCO's organisational structure includes paramilitary capabilities that can be mobilised by the Chinese regime to defeat threats to the CCP's interests. One such capability is the company's in-house militia…"
The majority of China's overseas port investments and operations are concentrated in a small handful of some of China's SOEs, especially COSCO, the world's third-largest container carrier and the fifth largest port terminal operator.
As recently as May, COSCO signed an agreement to build a new port in Peru, close to its capital, Lima.
In June, COSCO increased its stake in the Piraeus Port Authority in Greece, to 67%. COSCO had already acquired Piraeus's two main container terminals on a 35-year lease in 2008, and the third in 2016. Also in June, COSCO, which already owns terminals in Spain — in Valencia and Bilbao — announced that, through its Spanish subsidiary, it would be opening a new rail service for freight between Valencia and Zaragoza.