Just remember that there's one root cause for both the supply chain issues and rising prices: fiat debt creation and monetization by central banks. From Wolf Richter at wolfstreet.com:
CPI inflation highest since 2008 and 1991.
The Consumer Price Index (CPI) jumped 0.4% in September from August. The relentless series of jumps started in January when this "transitory" inflation took off. But now, "transitory is a dirty word," as Atlanta Fed President Raphael Bostic phrased it so elegantly, because the underlying dynamics have made it persistent: as some prices back off, others are surging.
On an annual basis, CPI jumped by 5.4%, matching the June high this year, and both are the highest since July and August 2008 (5.6% and 5.4%), and all four are the highest since early 1991, according to data released by the Bureau of Labor Statistics today.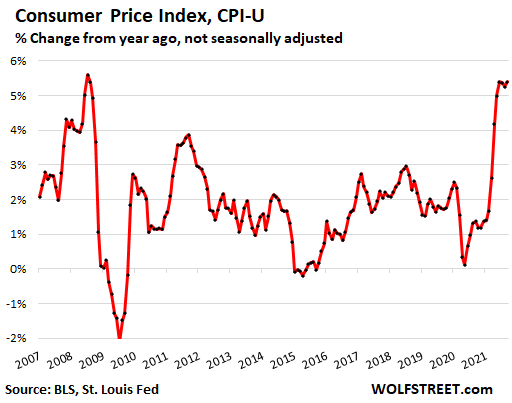 The increase was driven by numerous factors including food and rents and gasoline and utilities and new vehicles.
Food and energy can move sharply and erratically, often following prices of commodities. With food and energy removed, the "core CPI" rose by 0.2% for the month and by 4.0% year-over-year.