Vladimir Putin wants Russia to cherish its past and hold on to its traditions. He also thinks the American woke movement is loony tunes. He's right on both counts. He's got at least 50 IQ points on most of the rest of the world's leaders, and 100 on Biden. From Pepe Escobar at zerohedge.com:
Russian president, in Sochi, lays down the law in favor of conservatism – says the woke West is in decline…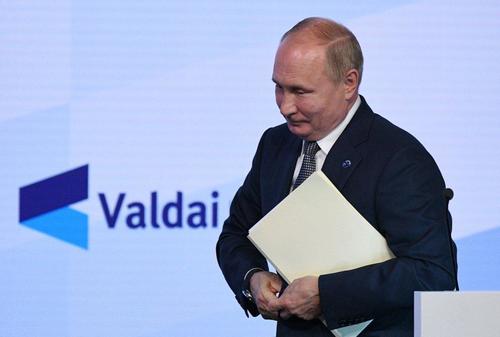 The plenary session is the traditional highlight of the annual, must-follow Valdai Club discussions – one of Eurasia's premier intellectual gatherings.
Vladimir Putin is a frequent keynote speaker. In Sochi this year, as I related in a previous column, the overarching theme was "global shake-up in the 21st century: the individual, values and the state."
Putin addressed it head on, in what can already be considered one of the most important geopolitical speeches in recent memory (a so-far incomplete transcript can be found here) – certainly his strongest moment in the limelight. That was followed by a comprehensive Q&A session (starting at 4:39:00).
Predictably, assorted Atlanticists, neocons and liberal interventionists will be apoplectic. That's irrelevant. For impartial observers, especially across the Global South, what matters is to pay very close attention to how Putin shared his worldview – including some very candid moments.
Right at the start, he evoked the two Chinese characters that depict "crisis" (as in "danger") and "opportunity," melding them with a Russian saying: "Fight difficulties with your mind. Fight dangers with your experience."
This elegant, oblique reference to the Russia-China strategic partnership led to a concise appraisal of the current chessboard:
The re-alignment of the balance of power presupposes a redistribution of shares in favor of rising and developing countries that until now felt left out. To put it bluntly, the Western domination of international affairs, which began several centuries ago and, for a short period, was almost absolute in the late 20th century, is giving way to a much more diverse system.
That opened the way to another oblique characterization of hybrid warfare as the new modus operandi:
Previously, a war lost by one side meant victory for the other side, which took responsibility for what was happening. The defeat of the United States in the Vietnam War, for example, did not make Vietnam a "black hole." On the contrary, a successfully developing state arose there, which, admittedly, relied on the support of a strong ally. Things are different now: No matter who takes the upper hand, the war does not stop, but just changes form. As a rule, the hypothetical winner is reluctant or unable to ensure peaceful post-war recovery, and only worsens the chaos and the vacuum posing a danger to the world.