The Chairman of the Russian Security Council, Dmitry Medvedev, has made a series of predictions of the consequences of Western sanctions on Russia. None of the predictions can be considered implausible, and most will probably come to pass. From Tyler Durden at zerohedge.com:
Following wave after wave of sanctions threats and impositions, former Russian president Dmitry Medvedev predicted this week that there would be a number of global consequences.
Medvedev, who is deputy chairman of Russia's Security Council, wrote on Telegram that the sanctions could be the spur to a new world order which Moscow has previously said it would welcome.
"As a result [of sanctions], a new security architecture will be created," he said.

This would highlight, "the weakness of the Westernized concepts of international relations such as 'order based on rules'," Medvedev also predicted "the collapse of the idea of ​​an American-centric world."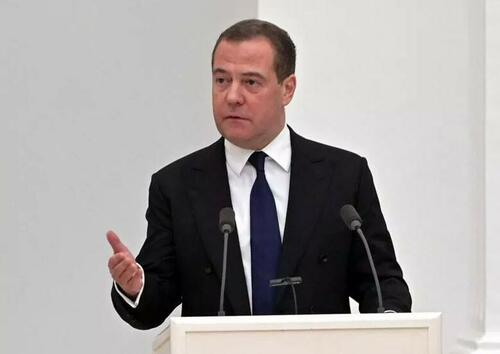 In a post titled, "What will happen next, or the world after anti-Russian sanctions (not a forecast at all)", Medvedev outlined in 10 bullet points how supply chains could collapse, inflation could spike and food and financial crises would ensue.
1. A number of global supply chains of goods will collapse, a major logistical crisis is possible, including the collapse of foreign airlines, which are banned from flying over Russian territory.