Don't forget that Ukraine is winning, and another $40 billion or so is all it needs for victory. From Tyler Durden at zerohedge.com:
The more than month-long standoff at Mariupol's Azovstal steelworks plant is finally over, after for many weeks the siege of the large complex by Russian forces remained the focus of international headlines, and following a series of high-risk civilian evacuations, some of them under the auspices of UN and Red Cross emergency teams.
The remnant hundreds of armed Ukrainian Azov battalion militants which had refused to come out have now surrendered in the Monday night hours. "Reuters saw about a dozen buses apparently carrying Ukrainian fighters leaving the plant on Monday. It was not possible to determine how many people were aboard."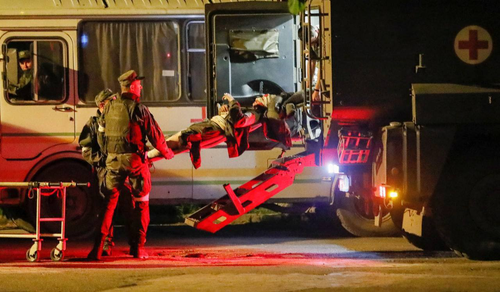 Widespread reports say that some 300 Ukrainian fighters have laid down their weapons and emerged from the cavernous facility. "More than 260 Ukrainian soldiers were evacuated from the besieged Azovstal steel plant in the port city of Mariupol," Ukraine's Deputy Defense Minister Ganna Malyar said. Another "53 heavily wounded (soldiers) were evacuated from Azovstal to the medical mortgage near Novoazovsk for medical aid," according to Malyar's statement.