The global plotters keep talking about the glorious future, but they plan to return us to a dismal past when most of the world was hungry most of the time. From Capitalist Exploits at zerohedge.com:
HUNGRY?
Good, according to the central planners.
The folks over at the UN stopped destroying the world for a brief few minutes to publish a piece (snapshot below) justifying their behavior and explaining the "benefits" of the famine they've engineered.
I am not making this up…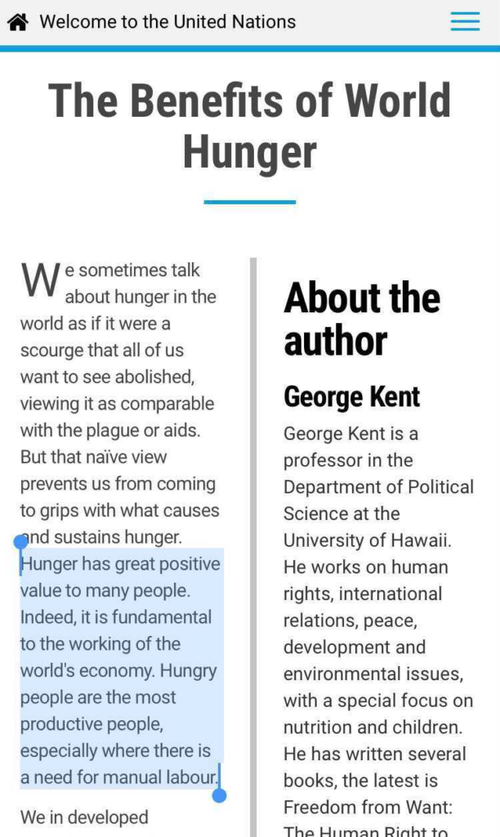 The article remained on the UN website for a day or so before being deleted after it went viral on social media, with people horrified at the truly unbelievable evil.
The good thing about this is that as they continue with their predictive programming and NLP (seriously, look into both and it promises to blow your mind), more and more people wake from their trance.
Once woken, they realize the incredible danger they are all in. And that is a good thing because you can't fight an enemy until you understand one exists.
And on the ground in the everyday world, the repercussions are now spilling over into the lives of Joe Sixpack.
Joe doesn't really care to hear about the United Nations "sustainability agenda" or about their "absolute zero" report. Which details (very clearly) and precisely what is taking place right now.
None of this is an accident. Contrary to what many think was or is incompetence is neither.
The "great reset" requires a populace beholden to the government and nobody else. As the central planners pursue their agenda of getting there, this is bound to be fraught with an awakening and a lot of angst.
And so, while Joe Sixpack doesn't understand most any of this, he doesn't actually need to.
What Joe does care about is when he can't afford groceries and when his electricity bill now suddenly wipes out his entire annual disposable income.