This is funny, and it's happening when uptake of electric vehicles is still fairly low. From Allen Zhong at The Epoch Times via zerohedge.com:
The cost to fuel electric vehicles in the United States is higher than gas-powered cars for the first time in 18 months, a consulting company said.
"In Q4 2022, typical mid-priced ICE (Internal Combustion Engine) car drivers paid about $11.29 to fuel their vehicles for 100 miles of driving. That cost was around $0.31 cheaper than the amount paid by mid-priced EV drivers charging mostly at home, and over $3 less than the cost borne by comparable EV drivers charging commercially," Anderson Economic Group (AEG) said in an analysis.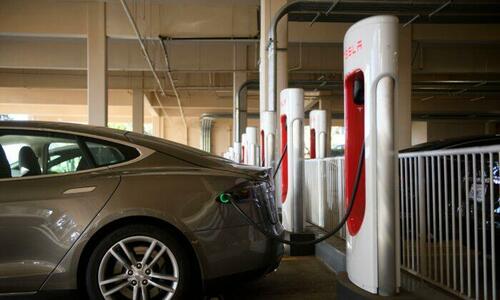 However, luxury EVs still enjoy a cost advantage against their gas-powered counterparts.
It costs luxury EV owners $12.4 to drive every 100 miles on average if they charge their cars mostly at home or $15.95 if they charge their cars mostly at commercial charger stations in the 4th quarter of 2022.
Meanwhile, the fuel costs for luxury gas-powered cars are $19.96 per 100 miles on average.
AEG is a consulting firm based in Michigan that offers research and consulting in economics, valuation, market analysis, and public policy, according to the company's website.
The fuel costs in the analysis are based on real-world U.S. driving conditions including the cost of underlying energy, state taxes charged for road maintenance, the cost of operating a pump or charger, and the cost to drive to a fueling station, AEG said.