Yes, Americans could tire of helping fight a war that amounts to a regional dispute in an area they can't find on a map and which could lead to nuclear confrontation. From Tyler Durden at zerohedge.com:
President Volodymyr Zelensky is deeply concerned over 'Ukraine fatigue' taking over the West, and especially among the populace of his government's biggest supporter, funder, and weapons supplier – the United States.
"The United States really understands that if they stop helping us, we will not win," he told the AP in a fresh interview published Wednesday. Waning support has been especially noticeable among Republican voters, according to recent polls, and as we recently reviewed in an article, "The Trump, DeSantis, Tucker Effect: New Polls Show Republicans Increasingly Done With Ukraine."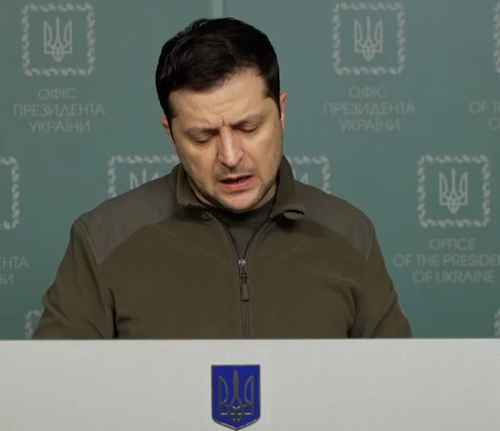 He issued the words specifically in reference to the still raging battle for the strategic city of Bakhmut in the Donetsk region. Russian forces have it nearly surrounded, even as Kiev has continued to throw additional manpower and weaponry into the city's defense at a huge cost and amid mounting casualties.
Zelensky described that the capture of Bakhmut will mean that Putin will smell weakness. According to the Ukrainian leader's words:
Speaking with The Associated Press, Zelenskyy said that if Bakhmut were to fall, Putin could "sell this victory to the West, to his society, to China, to Iran," as leverage to push for a ceasefire deal that would see Ukraine agree to give up territory.
"If he will feel some blood — smell that we are weak — he will push, push, push," Zelensky continued.
"Our society will feel tired" if the Russians gain victory in Bakhmut, he said. "Our society will push me to have compromise with them." Implicit in these words are perhaps a first-time admission that significant sectors of the Ukrainian population are ready for compromise and peaceful negotiations to end the war.
And tellingly, CBS commentary on the AP interview included the following observation: "He appeared acutely aware of the risk that his country could see its vital support from the U.S. and Europe start to slip away as the 13-month war grinds on."
Zelensky: "The loss of Bakhmut would mean a political defeat, could lead to a general defeat in conflict."