You knew that sooner or later cryptocurrency prices would crash. From Wolf Richter at wolfstreet.com:
You'll get whiplash just from watching.
Overnight and this morning, cryptocurrencies crashed across the board in a spectacularly dizzying way. The craziness of this, and the religious fervor with which these things are being promoted, and what happens when some folks are trying to get out, are taking on ever grander, more exaggerated, and even humorous proportions.
So here are the top eight cryptos by market capitalization, with prices at the moment. There is one thing I can guarantee: by the time you read this, prices will have changed dramatically, one way or the other, in a whiplash inducing manner.
Bitcoin (BTC), with a market capitalization currently of $200 billion, has crashed 23% so far today to $12,121, according to WorldCoinIndex. It's down 39% from its peak of $19,900 on December 17. Chart via WorldCoinIndex: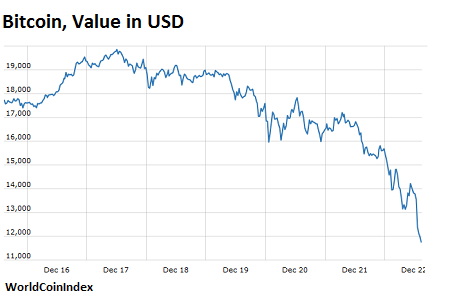 Note that the prices quoted at different exchanges around the globe vary by a large margin. Bitfinex, the largest exchange by volume, quoted BTC just above $12,000 while CEX, the sixth largest exchange, quoted it about $2,000 higher. So this is pricing chaos. WorldCoinIndex takes the price from different exchanges and averages them out.
There is a lot of talk of how traders are just switching from bitcoin to the "next bitcoin," that they're dumping bitcoin and buying the next bitcoins, but the next bitcoins are crashing even more.
Ethereum (ETH) with a market cap of $54.6 billion has plunged 29% so far today to $565.46 and is down 34% from its peak of $860 on December 19.
Bitcoin Cash (BCH), the offshoot of Bitcoin, has crashed 35% today to $2,030 and is down 51% from its peak of $4,100 on December 20, cutting its market cap to $33.4 billion.
Ripple (XRP) has crashed 35.6% today to $0.76. Just late yesterday it had peaked at $1.22. On December 20, it was at $0.71. One heck of an up-and-down trip. Two weeks ago, it was still at $0.23. Market cap of $29.4 billion
To continue reading: Cryptocurrencies Crash 25% to 50% across the Board