Cryptocurrency prices go down as well as up. Who knew? From Wolf Richter at wolfstreet.com:
Down 70% from the peak. This is just not fun anymore.
Bitcoin dropped to $5,860 at the moment, below $6,000 for the first time since October 29, 2017. It has plummeted 70% in six months from the peak of $19,982 on December 17. There have been many ups on the way down, repeatedly dishing out fakes hopes, based on the ancient theory that nothing goes to hell in a straight line (chart via CoinMarketCap):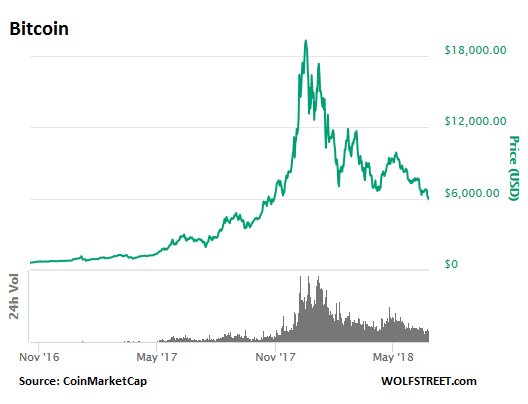 If you're a True Believer and you just know that bitcoin will go to $1 million by the end of 2020, as promised by a whole slew of gurus, including John McAfee – "I will still eat my dick if wrong," he offered helpfully on November 29 – well you probably don't need this sort of punishment. You're suffering enough already. And I apologize. I feel your pain. I was a true believer too a few times, and every single time it was a huge amount of fun, and I felt invincible and indestructible until I got run over by events.
With 17.11 million bitcoins circulating today, if bitcoin were at $1 million today, it would amount to a market cap of $17 trillion. But new bitcoins are constantly being created out of nothing ("mined") by computers that suck up enormous amounts of electricity. And by the end of 2020, there will be many more bitcoins, and if the price were $1 million each, the total would amount to about the size of US GDP.
This doesn't even count all the other cryptos that would presumably boom in a similar manner, amounting perhaps to half of global GDP, or something.
People who promote this brainless crap are either totally nuts or the worst scam artists. But I feel sorry for the True Believers whose fiat money got transferred and will continue to get transferred from them to others.
So OK, there's still some time left. It's not the end of 2020 yet. And True Believers still have room for the fake hope of a $1-million bitcoin.
But at the moment, bitcoin is even worse – incredibly – than one of the worst fiat currencies in the world, the Argentine peso, which has plunged "only" 35% over the period during which bitcoin plunged 70%. That takes some doing!
There is always some reason or other that is cited for the drops: The endless series of hacks into exchanges during which crypto tokens and coins just vanish. Nervous regulators cracking down on the scams surrounding cryptos, initial coin offerings (ICOs), and how they're being promoted. Or advertising platforms such as Facebook, Google, and Twitter, and email newsletter platforms restricting ads and promos about cryptos and ICOs.
To continue reading: