Here's a lesson from Wall Street that applies in spades in the Middle East: you have no friends, only people (and countries) that will help you or hurt you when it is in their interest to do so. From Burak Bekdil at thegatestoneinstitute.org:
Ahmed Charai, in an article for The National Interest, has forcefully reminded the world that: "As Qatar faces international pressure to stop harboring senior [Muslim] Brotherhood figures, there are clear indications that it will facilitate their migration to Turkey. So among the urgent challenges for the U.S. allies to address is the question of how to weaken this budding alliance."
Charai has a point. There is a "more-mature-than-emerging" anti-U.S. alliance among U.S.'s presumed Middle East allies
What should matter to Washington in this Turkish soap opera is the fact that Turkey is getting support, in its confrontation with the U.S., from "like-minded" countries: Russia, China and Qatar. It is clearly time for Washington to rethink its theoretical but fake alliance with Qatar, a tiny Gulf sheikhdom that is trying to neutralize U.S. efforts to sanction Turkey — another theoretical ally that is more like-minded with Russia than with the West.
In theory, the oil-rich sheikhdom of Qatar is an ally of the United States. The peninsula hosts more than 10,000 U.S. military personnel and approximately 72 F-15 fighter jets at its Al Udeid military base. In this turbulent part of the world, alliances, like enmities, can be treacherous. In March, the Foreign Affairs Committee of the US House of Representatives was already looking at four alternatives that could become the military headquarters when the Al Udeid contract with Qatar will expire in 2023. After "closely observing its [Qatar's] financial and banking system due to fears of support for terrorist organisations and individuals associated with them," Washington apparently decided it had to rethink Al Udeid and its Qatari "allies."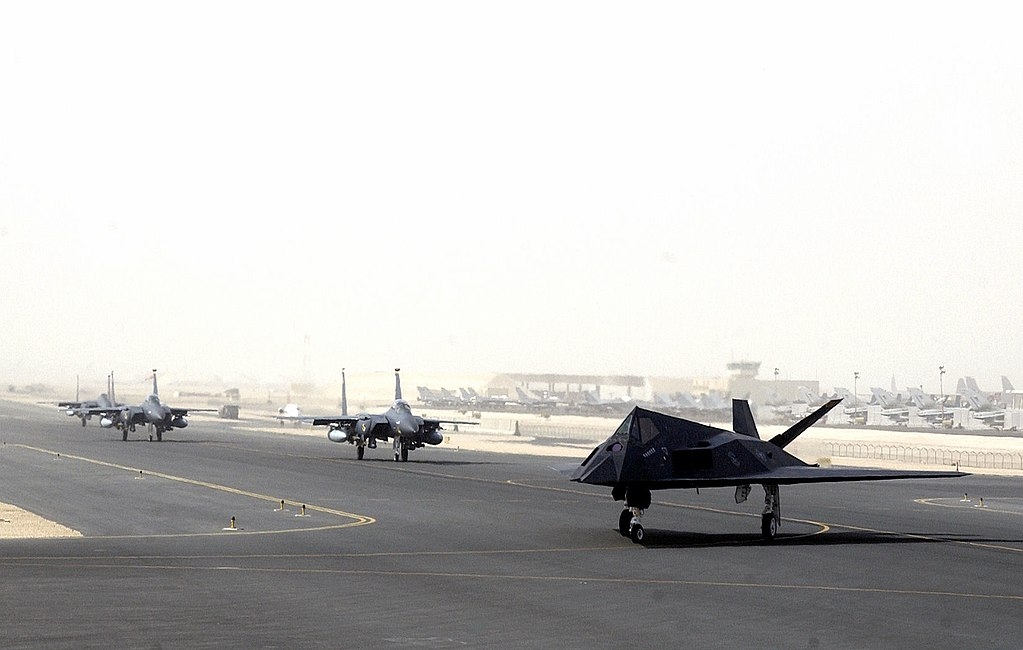 Pictured: An F-117 and F-15s prepare to launch from the U.S. Air Force base at Al Udeid, Qatar. (Image source: USAF/Wikimedia Commons)
Enter Turkey. The Qataris, not knowing that their grandchildren would one day be the best strategic allies of their Ottoman colonialists' grandchildren, fought the Ottomans to gain their independence in 1915, thereby ending the 44-year-long Ottoman rule in the peninsula. Independence had come at last. It lasted for about a year, until 1916, when Qatar became a British protectorate until 1971. Today, President Recep Tayyip Erdoğan's Turkey is Qatar's best ally. This alliance is structured on common ideology featuring pro-Hamas, pro-Muslim Brotherhood Islamism.
To continue reading: Trump's Fake Allies in the Gulf