Taiwan is about 75 miles from mainland China, and almost 7,000 miles from Los Angeles. Who do you think would win a battle for Taiwan? From Scott Ritter at rt.com: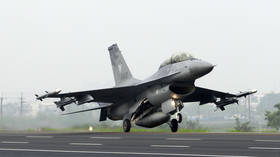 FILE PHOTO: A F-16 fighter jet lands on a highway used as an emergency landing strip during the Han Kuang military exercise in Madou, Tainan, southern Taiwan, April 12, 2011©REUTERS/Nicky Loh
The US military has deteriorated to the point that the only way it could win a simulated war game in which it was called on to defend Taiwan from a 'Chinese invasion' force was by inventing capabilities it does not yet possess.
In 2018 and 2019, the US Air Force conducted detailed simulated war games that had its forces square off against those of China. On both occasions, the US was decisively defeated, the first time challenging the Chinese in the South China Sea, and the second time defending Taiwan – which China sees as an integral part of its territory – against a Chinese invasion.
In 2020, the US repeated the Taiwan scenario, and won – but only barely. The difference? In both 2018 and 2019, it played with the resources it had on hand. Last year, it gave itself a host of new technologies and capabilities that are either not in production or aren't even planned for development. In short, the exercise was as far removed from reality as it could get. The fact is the US can only successfully defend Taiwan from a full-scale Chinese invasion in its dreams.