This will be as far as things will go at the NY Times, because any honest appraisal of Ukraine would lead to the question: why are supporting these clowns and crooks? From Tyler Durden at zerohedge.com:
The New York Times has in an extremely rare moment (or perhaps more like unprecedented) conducted an in-depth visual investigation of a likely war crime against surrendered Russian troops conducted by Ukrainian forces. Multiple videos from different angles, including drone footage, emerged last week showing the incredibly disturbing scenes as Ukrainian forces were recapturing the village of Makiivka in the Luhansk region.
The videos show ten apparently unarmed Russian soldiers lying facedown on the ground, who early on are seen moving and in a position of surrender as at least four Ukrainian troops stand nearby outside of a house in a farmyard.
By the end of the footage, eleven Russians had been shot dead at close range, in what Russia says was a summary execution of people who at that point (based on their surrender) effectively become non-combatants based on accepted international laws of war.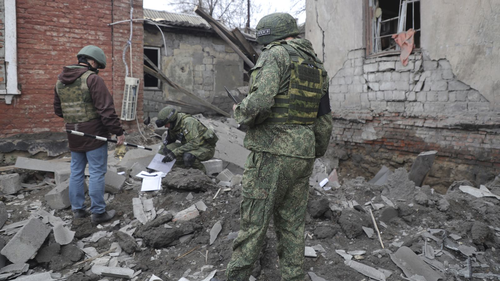 The Russian Defense Ministry has said the videos confirm "deliberate and methodical murder" of its soldiers by the Ukrainian side, also with the Russian Foreign Ministry calling the act "merciless" and "shocking".
Surprisingly, the videos were initially made public by Ukrainian news sources and soldiers themselves, and were shared widely on social media, as they purportedly showed the 'heroism' of Ukrainian soldiers as they clawed back territory in eastern Ukraine.