All sorts of foreign governments, including emerging market governments, are borrowing in dollars. What could go wrong? For one thing, the dollar could strengthen.  But don't currency rates usually go the direction governments want them to? From Wolf Richter at wolfstreet.com:
USD-denominated debt outside the US hits record – even junk bonds.
China announced today that it would sell $2 billion in government bonds denominated in US dollars. The offering will be China's largest dollar-bond sale ever. The last time China sold dollar-bonds was in 2004.
Investors around the globe are eager to hand China their US dollars, in exchange for a somewhat higher yield. The 10-year US Treasury yield is currently 2.34%. The 10-year yield on similar Chinese sovereign debt is 3.67%.
Credit downgrade, no problem. In September, Standard & Poor's downgraded China's debt (to A+) for the first time in 19 years, on worries that the borrowing binge in China will continue, and that this growing mountain of debt will make it harder for China to handle a financial shock, such as a banking crisis.
Moody's had already downgraded China in May (to A1) for the first time in 30 years. "The downgrade reflects Moody's expectation that China's financial strength will erode somewhat over the coming years, with economy-wide debt continuing to rise as potential growth slows," it said.
These downgrades put Standard & Poor's and Moody's on the same page with Fitch, which had downgraded China in 2013.
But the Chinese Government doesn't exactly need dollars. On October 9th, it reported that foreign exchange reserves – including $1.15 trillion in US Treasuries, according the US Treasury Department – rose to $3.11 trillion at the end of September, an 11-month high, as its crackdown on capital flight is bearing fruit (via Trading Economics):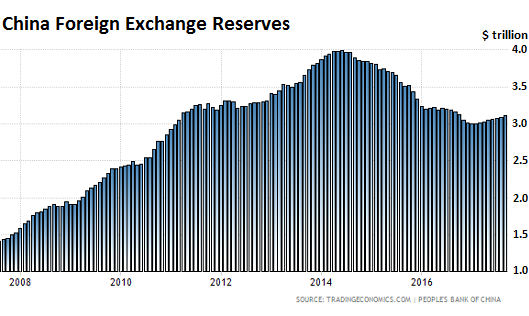 So why does China want these $2 billion in US dollars? For one, they're still cheap, given the low yield, which is expected to rise as the Fed has started to unwind QE. And two, China might be interested in creating a benchmark for dollar-bond trading in China that could help set prices for Chinese corporate debt denominated in dollars. And there's a lot of it.
To continue reading: De-dollarization Not Now