The Fed is doing exactly what it said it would. From Wolf Richter at wolfstreet.com:
During the sell-off, it ignored the whiners on Wall Street.
The fifth month of the QE-Unwind came to a completion with the release this afternoon of the Fed's balance sheet for the week ending February 28. The QE-Unwind is progressing like clockwork. Even during the sell-off in early February, the QE-Unwind never missed a beat.
During QE, the Fed acquired Treasury securities and mortgage-backed securities (MBS) guaranteed by Fannie Mae, Freddie Mac, and Ginnie Mae. During the QE-Unwind, the Fed is shedding those securities. According to its plan, announced last September, the Fed would reduce its holdings of Treasuries and MBS by no more than:
$10 billion a month in Q3 2017.
$20 billion a month in Q1 2018
$30 billion a month in Q2 2018
$40 billion a month in Q3 2018
$50 billion a month in Q4 2018 and continue at this pace.
This would shrink the balance of Treasuries and MBS by up to $420 billion in 2018, by up to an additional $600 billion in 2019 and every year going forward until the Fed decides that the balance sheet has been "normalized" enough — or until something big breaks.
For February, the plan called for shedding up to $20 billion in securities: $12 billion in Treasuries and $8 billion in MBS.
The easy part first: Treasury Securities
On its January 31 balance sheet, the Fed had $2,436 billion of Treasuries; on today's balance sheet, $2,424 billion: a $12 billion drop for February. On target! In total, since the beginning of the QE Unwind, the balance of Treasuries has dropped by $42 billion, to hit the lowest level since August 6, 2014: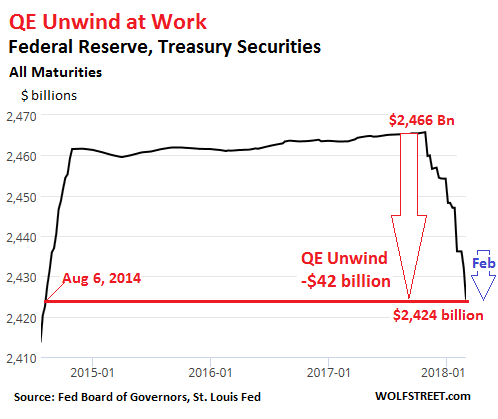 In the chart above, the stair-step down movement is a result of the mechanics with which the Fed sheds securities. It does not sell Treauries but allows them to "roll off" when they mature: mid-month and at the end of the month. On February 15, $16.6 billion in Treasuries on the Fed's balance sheet matured; on February 28, $32.1 billion matured.
To continue reading: Fed's QE Unwind Marches Forward Relentlessly