Sometimes a party to an agreement will abrogate the agreement because it believes the other party or parties have breached the agreement. The US is leaving the Iran nuclear deal although Iran, by even the US's reckoning, has not breached any its provisions. From David Stockman at antiwar.com:
At his so-called Cabinet meeting this morning, the Donald basically threatened Iran with annihilation if it does what 15 other signatories to the nuclear non-proliferation treaty (NPT) do every day: Namely, increase production of industrial grade nuclear fuel (3.5%-5.0% purity) at its enrichment plant at Natanz – which, in any event, is crawling with IAEA inspectors.
Moreover, it really doesn't matter whether Trump was play-acting in the style of Art of the Deal or that the JPAOC could be improved.
The mere threat of a military attack from the White House is madness because it arises from blatant lies that have absolutely nothing to do with US national security. Nor, for that matter, the security of any other country in the region, including Saudi Arabia and Israel.
The real purpose of the Donald's missile-rattling is nothing more than helping Bibi Netanyahu keep his coalition of right wing religious and settler parties (Likud, United Torah Judaism, Shas, Kulanu and the Jewish Home) together, thereby maintaining his slim 61-vote majority in the 120-seat Knesset.
Netanyahu's malefic political glue is the utterly false claim that Iran is an "existential threat" to Israel because it is hell-bent on getting the bomb.
But that's where the whopper comes in. It amounts to the ridiculous postulate that Iran is so fiendishly evil that if it is involved in the nuclear fuel cycle in any way, shape or form – presumably even just operating a uranium mine – it is only a matter of months before it will have a bomb.
As a matter of record, of course, Netanyahu has been saying this since the early 1990s and he has always been wrong because there were never any facts or logic to support his blatant fear-mongering. For example, here is the cartoon-style, evidence-free "proof" that he offered way back in 2012.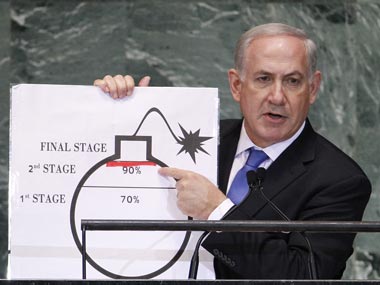 To continue reading: The Deep State First – Madness On Both Ends of the Acela Corridor