Are Biden and his cohorts so stupid that they're going to start a war over Crimea? From Tyler Durden at zerohedge.com:
Russian state sources are alleging that Washington under the Biden administration is ramping up military aid to Ukraine after local media observed a US cargo ship delivering 350 tonnes of military equipment – including tactical vehicles – to Ukraine's Odessa port.
Local media reported the delivery which began late Wednesday and which is said to still be in process Friday. Ukraine's Dumskaya news agency said the American vessel carried at least 35 US military humvees for Ukrainian national forces.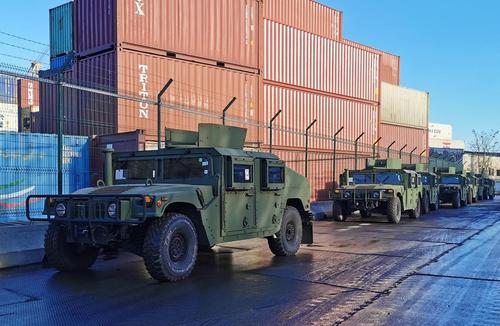 "Dry-cargo ship Ocean Glory under the American flag entered the port of Odessa last night," the report indicated.
"The bulk carrier Ocean Glory specializes in military transportation. Built in 2015, length 171 meters, width 25 meters, deadweight about 20 thousand tons," it added according to a translation.
The delivery follows last year's US DoD announcement of an additional $125 million military assistance package for Ukraine (unveiled in March) which involves equipment, training, and military advisory support, with an additional $150 million waiting for Congressional and Pentagon approval.