The Fed is fooling itself if it thinks it can raise its administered interest rates much with the huge amount of debt outstanding. Any significant increase will incrementally increase the debt service burden far more than the over-leveraged real economy can sustain. The heart of this article is the graph at the bottom of this excerpt. From Tyler Durden at zerohedge.com:
Back in December 2015, just days before the Fed hiked rates for the first time since the global financial crisis, in its first tightening campaign since June 2004, we said that Yellen was about to engage in a great policy error, one which like the Ghost of 1937, would end in disaster…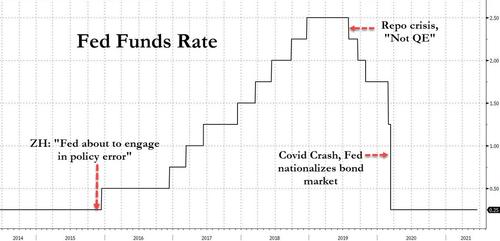 … and sure enough it did, when after 9 rate hikes, Powell realized that a rate of 2.50% is unsustainable for the US economy which first cracked during the summer of 2019 repo crisis when the Fed cut rates three times, only to cut rates to zero from 1.75% in a matter of days after covid conveniently emerged on the global scene and led to an overnight shutdown of the US economy and "forced" the Fed to nationalize the bond market as well as inject trillions of liquidity into the market.
But what is it that prompted us to predict – correctly – that any rate hike campaign is doomed to fail (similar to the Fed's ill-conceived plan to hike rates in 1937, which brought the already reeling country to its knees and only World War 2 saved the day, giving FDR a green light to unleash a fiscal stimulus tsunami the likes of which we hadn't seen until the covid response)?
Simple: as we explained back in Dec 2015, the equilibrium growth rate in the US, or r* (or r-star), was far far lower than where most economists thought it was. In fact, as the sensitivity table below which we first constructed in 2015 showed, the equilibrium US growth rate was right around 0%.