Every time there's a big fire someone yells "Climate change!" There are ways to mitigate wildfires, but they're a natural part of the ecosystem and like the Covid virus, you can't get rid of them. From H. Sterling Burnett at The Epoch Times via zerohedge.com:
In late July, President Joe Biden held a virtual joint planning meeting and press conference with the governors of various Western states to discuss how to handle 2021's wildfire season.
Every leader blamed catastrophic human climate change for the severity of recent wildfire seasons.
The New York Times allowed Oregon's Democratic Gov. Kate Brown to follow up that event with an editorial titled "The West Is on Fire, It's Past Time to Act on Climate Change."
Biden and the governors are wrong.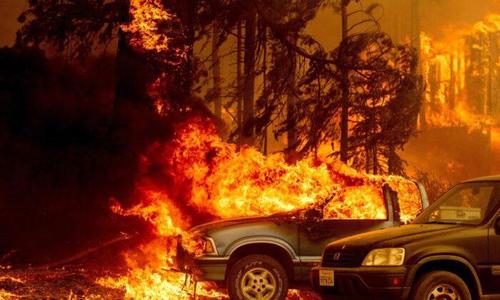 Wildfires have been common throughout the West historically, often burning more acres than they've burned in recent years. To the extent that wildfires have increased in intensity recently, it isn't due to modest warming, but rather to decades of federal and state mismanagement of publicly owned forests throughout the Western United States, leaving those forests in tinderbox conditions.
It has been more than a century since California experienced wildfires of the magnitude it has suffered recently. But research published in Forest Ecology and Management reported that prior to European colonization, more than 4.4 million acres of California forest and shrub-land burned annually. And those huge wildfires came when the Earth was cooler than it is today.
Had Brown studied history a bit, she would have found Oregon has suffered large fires throughout its history.