Here's a new and interesting monetary innovation. From Jackson Elliott at The Epoch Times via zerohedge.com:
Modern currencies such as Bitcoin expect to find success in a more technological world, but a new currency known as Goldbacks might corner the post-apocalyptic currency market.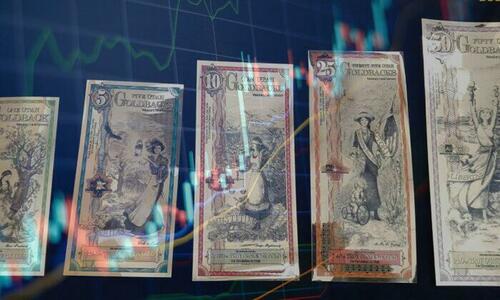 In 2019, Goldback president Jeremy Cordon said he had a dream in which he saw people paying for groceries using golden bills. Cordon had previously worked for years trying to make gold into functional money, but the dream gave him a new idea: What if a bill small enough to buy groceries could include a tiny percentage of gold?
"This felt like an epiphany because I saw people using gold as a regular money," he said. "This fit into the vision that anyone anywhere could use gold as their currency of choice."
For thousands of years, anyone who wanted to buy goods with gold faced "the small coin problem," Cordon told The Epoch Times. A 1-ounce gold coin, worth about $2,000, is far too expensive for everyday use, but a cheap gold coin is impractically small.
"Gold is the best money, but it can't buy a loaf of bread," he said.
To solve this problem, Cordon used new technology to create a bill that sandwiches a particle-thin gold layer between two layers of polymer—the Goldback. The result can be worth as little as $3.80.
Be Prepared
At a time when Bitcoin has devoured most of the private and local currency market, Goldbacks have arrived late to the private currency world. In the 1980s and '90s, private currencies experienced a boom around the United States, according to University of Central Oklahoma professor and local currency expert Loren Gatch. But since then, they've been on the decline.