Of course, the U.S. government lies so much, particularly to its vassals, that Zelensky's refusal to believe Biden's warnings is understandable. From Tyler Durden at zerohedge.com:
President Joe Biden on Friday told a donors conference in Los Angeles, California on the sidelines of the Summit of the Americas that Ukrainian President Volodymyr Zelensky brushed aside US warnings saying a Russian invasion of Ukraine was imminent. He described the situation ahead of the Feb.24 invasion and his communications with Zelensky, according to The Associated Press:
"Nothing like this has happened since World War II. I know a lot of people thought I was maybe exaggerating," Biden said, according to the outlet. He added the US had data that showed Russian President Vladimir Putin was going to invade.

"There was no doubt," Biden continued. "And Zelenskyy didn't want to hear it."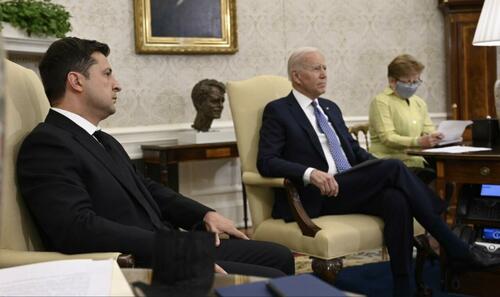 In his latest remarks, Biden admitted that the possibility of Putin launching a full-scale invasion may have seemed far-fetched at the time, acknowledging, "I understand why they didn't want to hear it."
Top Ukrainian officials in the days and weeks prior to the invasion had pushed back against Washington, blaming the repeat warnings from US intelligence agencies for sowing "panic".
At that time, Zelensky had even personally told Biden to "calm down the messaging" on the invasion fears. Rarely does US intelligence take its classified assessments public in order to preemptively warn of action it predicts will occur. This highly unusual public stance also fueled widespread skepticism of the constant invasion warnings from the administration even among longtime Russia experts and observers. It has since been revealed in recent testimony by US Director of National Intelligence Avril Haines that Biden had taken the rare step of declassifying intelligence related to the prepared invasion in order to convince skeptical allies that it was likely going to happen.