Not long ago, the Germans looked to both the East and West and did a good job of keeping them in balance, serving the best interests of Germany. Now it has aligned completely with the U.S., and it's apparent that policy is not in Germany's best interest. From Alexander Davydov at rt.com:
Germany's new leadership has gone 'all in' on its alliance with the US, overturning a strategy that had underpinned its success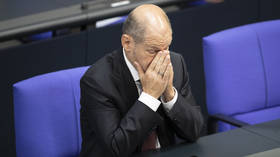 What was known as the "memory culture" was an essential element of the foreign policy strategy of post-war Germany. Wise leaders were able to gradually restore the importance of the country on the international stage and achieve strategic goals.
A prime example was Chancellor Willy Brandt's 'Ostpolitik,' based on ideas of repentance and overcoming post-war enmity. The historical reconciliation between Bonn and the USSR became the basis for the future unification of Germany – solving the main task of the country's political elites after the end of World War II.
However, less gifted politicians find historical memory a handicap and a hardship. For neighbours, the ambitions of German leadership in Europe bring back painful memories. Indeed, historical documents such as the Treaty of German Unification, limit the military capabilities of the state – which is a direct obstacle to Chancellor Olaf Scholz's dream for the creation of "the strongest army in Europe."
Today, the image of a peace-loving nation that has re-educated itself after the tragedy of two world wars does not fit well with active arms deliveries to Ukraine.
"This war must end," Scholz recently warned, while in Kiev. Meanwhile, his government's website is regularly updated with information on weapons already delivered and planned to be delivered to the Ukrainians. This is what you might call a paradox.
Let's look at some of the rhetoric coming out of Berlin. On June 21, on the eve of Russia's Day of Remembrance and Sorrow, Economy Minister Robert Habeck called the reduction of Russian gas supplies "an attack on Germany." Foreign Minister Annalena Baerbock has claimed that "Russia deliberately uses hunger as a weapon."