Like many European countries' military forces, Britain's are deteriorating. Meanwhile, British politicians brag about their prowess and commitments, most notably in Ukraine. From Scott Ritter at rt.com:
NATO's plan to vastly increase its forward force is wishful thinking, and the UK's struggle for military relevance is a perfect case in point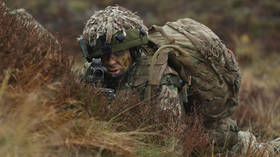 The secretary general of the North Atlantic Treaty Organization (NATO), Jens Stoltenberg, recently announced the US-led military bloc's goal of expanding its so-called 'Response Force' from its current strength of 40,000 to a force of more than 300,000 troops. "We will enhance our battlegroups in the eastern part of the Alliance up to brigade-levels," Stoltenberg declared. "We will transform the NATO Response Force and increase the number of our high readiness forces to well over 300,000."
The announcement, made at the end of NATO's annual summit, held in Madrid, Spain, apparently took several defense officials from the NATO membership by surprise, with one such official calling Stoltenberg's figures "number magic." Stoltenberg appeared to be working from a concept that had been developed within NATO headquarters based upon assumptions made by his staffers, as opposed to anything resembling coordinated policy among the defense organizations of the 30 nations that make up the bloc.
Confusion is the name of the game at NATO these days, with the alliance still reeling from last year's Afghan debacle and unable to adequately disguise the impotence shown in the face of Russia's ongoing military operation in Ukraine. The bloc is but a shadow of its former self, a pathetic collection of under-funded military organizations more suited for the parade ground than the battlefield. No military organization more represents this colossal collapse in credibility and capability than the British Army.