A sophisticated U.S. rocket launcher isn't going to the war around for Ukraine. From Scott Ritter at rt.com:
The rocket system is a deadly tool – but it's not the tonic Ukraine and its supporters claim it to be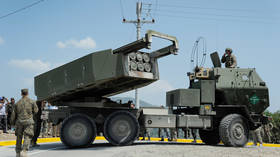 As former US President Donald Trump proved before he was banned by the platform, there's always a tweet.
"HIMARS have arrived to Ukraine. Thank you to my US colleague and friend @SecDef Lloyd J. Austin III for these powerful tools! Summer will be hot for Russian occupiers. And the last one for some of them."
Thus wrote Aleksey Reznikov, the Ukrainian minister of defense, on June 23. He followed it up with another tweet on July 4, wishing the American people a "Happy Independence Day" while thanking them for their continued support for the Ukrainian cause. Reznikov highlighted the role being played by HIMARS, which he called "a game changer at the front lines."
In the weeks following Reznikov's announcement of the arrival of the US-made M-142 High-Mobility Artillery Rocket System (HIMARS), the hype that accompanied the deployment of this new weapon, from both the Ukrainian and Russian sides, does not appear to substantiate the minister's claim that Kiev now possesses "game changing" technology.
The harsh reality of war is that any modern weapons system, when employed effectively, is capable of inflicting casualties on an opponen