Cheaper burgers and steaks is a welcome development. From Tyler Durden at zerohedge.com:
While one wouldn't know it from looking at USDA data for the uncooked beef prices…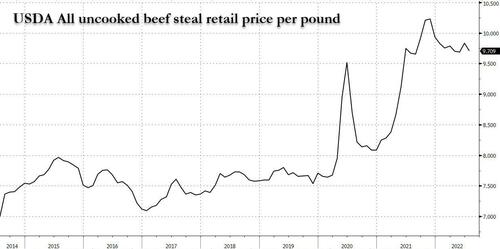 … there are some good news for those seeking to upgrade – however briefly – from horse or cricket in these dystopic days: according to the WSJ, beef is finally getting cheaper, bringing some economic relief to U.S. consumers. Prices of beef, typically among the costliest grocery store purchases, are falling after more than a year of increases as consumer demand softens for some cuts.
While demand has shrunk due to the recent record surge in prices, supplies are improving due to better staffing at meat plants, and supermarkets are offering more discounts on rib-eye, New York strip and other often-expensive products.
For months, prices for food and consumer products have been rising across grocery aisles due to higher costs of transportation, ingredients and labor. Some of the biggest increases have been in the meat section, and shoppers have been buying cheaper cuts or switching to less expensive protein like chicken, pork, horse or cricket. But now that beef prices have plateaued, consumers are finding more deals and options, industry executives and analysts told the WSJ.
Unlike the recent USDA data, retail beef prices fell 0.7% for the four-week period ended Aug. 7, compared with the same period a year ago, according to data from research firm Information Resources Inc. That decline came after beef prices fell 1% during the prior four-week period, which was the first monthly decline since June 2021. U.S. retail beef prices hadn't fallen for two straight months in over a year and a half, though they remain at historically high levels.