Don't think that the FBI concentrates on political skullduggery but has not yet been thoroughly corrupted. From Tyler Durden at zerohedge.com:
The FBI 'drilled and pried' their way into 1,400 safe-deposit boxes at a private vault company in Beverly Hills after misleading a judge about their plan to permanently confiscate everything inside every box containing at least $5,000 in cash or goods, a senior FBI agent recently testified.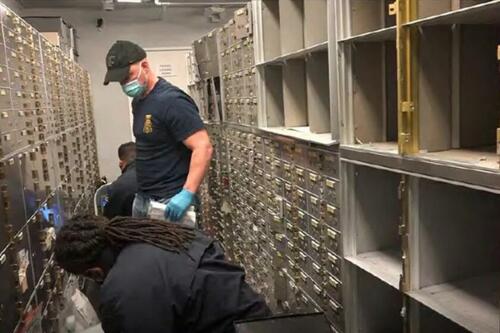 They rummaged through personal belongings of a jazz saxophone player, an interior designer, a retired doctor, a flooring contractor, two Century City lawyers and hundreds of others.

Agents took photos and videos of pay stubs, password lists, credit cards, a prenuptial agreement, immigration and vaccination records, bank statements, heirlooms and a will, court records show. In one box, agents found cremated human remains. –LA Times
The FBI and US attorney's office in Los Angeles justified the 5-day dragnet forfeiture at the US Private Vaults store by assuming that hundreds of anonymous box holders were storing assets somehow tied to unknown crimes.
At the end of the operation, agents had recovered more than $86 million in cash, and a 'bonanza' of gold, silver, rare coins, jewelry and other items of value.
Now, around 700 box holders who aren't implicated in any crimes liken the raid to police barging into a building's 700 apartments and taking every tenant's possessions when the only evidence of wrongdoing is against the landlord.
The plaintiffs in the class-action suit have asked U.S. District Judge R. Gary Klausner to declare the raid unconstitutional. If he grants the request, it could force the FBI to return millions of dollars to box holders whose assets it has tried to confiscate.

It could also spoil an unknown number of criminal investigations by blocking prosecutors from using any evidence or information acquired in the raid, including guns and drugs. -LA Times