The U.S. is going to find it much harder to exploit foreign nations. From Sergey Karaganov at rt.com: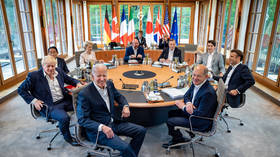 At last week's Valdai Forum, in Moscow I was invited to speak at a session entitled "The Crumbling World: Lessons for the Future from the Political-Military Crisis of 2022." The event has become a leader in the international intellectual community in dealing with global affairs of the present and future. But the title of the session gave me doubts, even if I didn't protest.
The crisis did not start in 2022, it started in the mid-1990s – just as the Second World War really began with the post-First World War Treaty of Versailles, which was unfair and laid the foundations for what later transpired.
Almost three decades ago, the West refused to strike a just arrangement with post-Soviet Russia. Instead, as it seemed to many at the time, it created a new domination system based on so-called "rules."
Others later referred to it more accurately as global liberal imperialism. But it was built on sand. It contained a World War III landmine that would sooner or later explode. Veterans like me tend to store memories, often misremembered, but I have been on the record since 1996-1997 that a world based on NATO expansion and Western domination would lead to war.