By the end of the winter Ukraine may not have any power at all. From Tyler Durden at zerohedge.com:
"Another wave of massive Russian attacks on energy infrastructure," Ukraine's Energy Minister German Galushchenko announced Friday, describing a large Russian barrage of dozens of missiles across major cities. "There will be emergency power outages," he added.
Air raid sirens have been blaring throughout the day in this latest wave of strikes, which resulted in electricity and water outages in multiple cities and towns amid sub-zero temperatures. 
Commander of Ukraine's Armed Forces Gen. Valeriy Zaluzhnyi tallied that Russia launched 76 missiles at critical infrastructure throughout the country. He then claimed that national air defenses were able to intercept and down a whopping 60 of the missiles.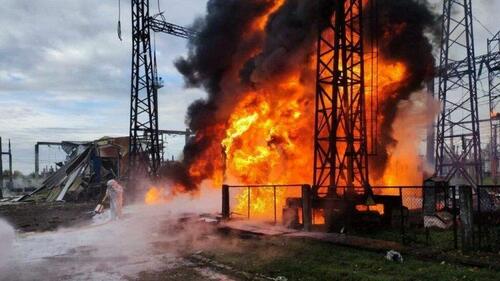 More attacks rocked the capital as well. "Due to damage to energy infrastructure, there are interruptions to water supplies in all areas of the capital," a statement by Kyiv Mayor Vitali Klitschko indicated. City authorities temporarily halted metro lines in order to provide a place for residents to take cover underground while the attacks ensued.