The only way to stop those nasty Pentagon leaks is through still more restrictions on what remains of our civil liberties. From Matt Taibbi at racket.news:
Leaks for me, not for thee
On a flight, reading about the FBI's arrest of Jack Texiera, already dubbed the "Pentagon Leaker." A quick review reveals multiple media portraits already out depicting him as a dangerous incel who shared his wares on Discord, a social media app where "racist memes" and "offensive jokes" flourish. Writes the New York Times:
Dark humor about race or ideology can eventually shape the beliefs of impressionable young people, and innocuous memes can be co-opted into symbols of hatred, researchers say.
Well, clearly we can't have dark humor or innocuous memes! Gitmo cages for all!
The Washington Post went with "charismatic gun enthusiast":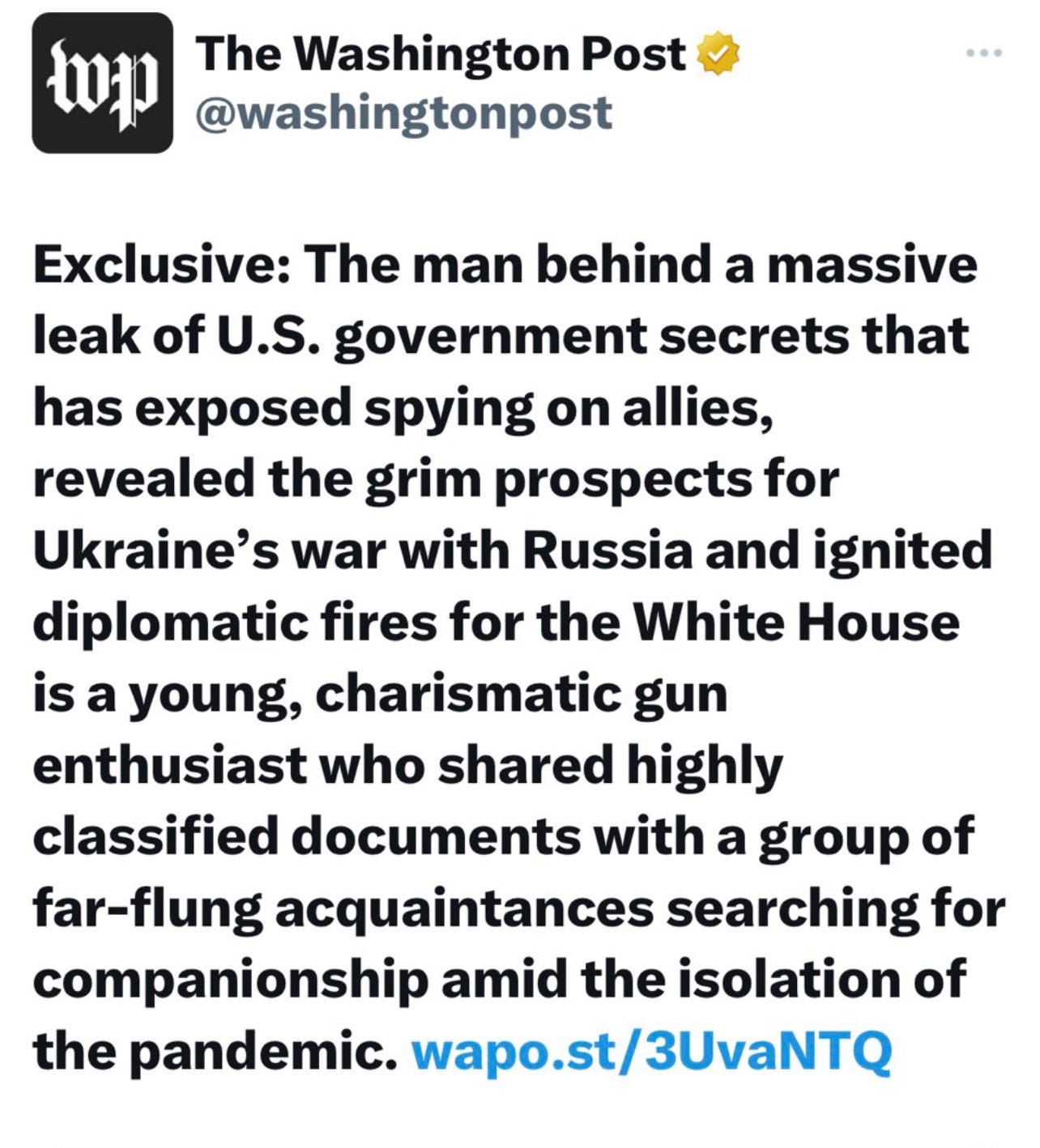 The New York Times summarized key points in the secret defense documents, which among other things suggested "Ukrainian forces are in more dire straits than their government has acknowledged publicly." Reading what's out there, it's not easy to parse what's a legitimate intelligence concern in reaction to these leaks and what's mere embarrassment at having been caught lying, to the public, to would-be U.S. allies the documents show we've been spying on, etc.
You'll read a lot in the coming days about the dangers of apps like Discord, or of online gaming groups, which counterintelligence officials told the Washington Post today are a "magnet for spies." The Leaker tale will also surely be framed as reason to pass the RESTRICT Act, the wet dream of creepazoid Virginia Senator Mark Warner, which would give government wide latitude to crack down on "communication technology" creating "undue or unacceptable risk" to national security.