The RESTRICT Act will gut the Internet as a force for disclosure and a check on wrongdoing. From Ian Miles Cheong at azerbaycun24.com: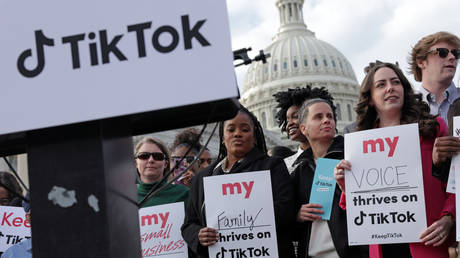 Supporters of TikTok listen during a news conference in front of the U.S. Capitol on March 22, 2023 in Washington, DC. ©  Photo by Alex Wong/Getty Images
In an eerie semblance to George Orwell's '1984', the Restricting the Emergence of Security Threats that Risk Information and Communications Technology Act, or RESTRICT Act, looms as a dark cloud over American liberties.
Branded as a mere "TikTok ban," this act possesses a sweeping reach that would empower the federal government to designate any nation a "foreign adversary," ban online services and products even indirectly controlled by an entity within their jurisdiction, and severely punish Americans who engage in almost any transaction with them.
Sponsored by Sen. Mark Warner (D-VA), the RESTRICT Act not only targets the Chinese-linked TikTok platform but also has the potential to dismantle the very foundations of American freedom. One cannot help but draw comparisons to Orwell's dystopian masterpiece, where pervasive government surveillance and control are the norm. In a frightening twist, this proposed legislation could make such nightmarish fiction a stark reality.