Inflation, particularly hyperinflation, reduces living standards and imposes huge costs on an economy, but people do learn to live with it. From Bill Bonner at bonnerprivateresearch.substack.com:
How to destroy a thriving economy… lessons from Argentina to America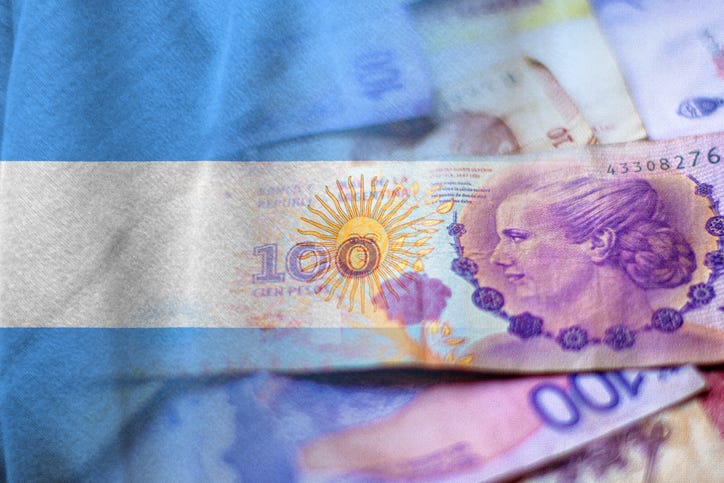 (Argentine pesos depicting Eva "Evita" Peron. Source: Getty Images)
Bill Bonner, reckoning today from Dublin, Ireland…
Hola! Bienvenidos a Argentina!
What did we learn from two months in a country with 100% inflation?
"The most surprising thing," says a friend, "is that it doesn't seem to matter. The restaurants are full. People are spending money. Life goes on."
Our cab driver voiced much the same sentiment.
"Yeah…it's a crazy country. But we have good meat. Good vegetables. Pretty women. And Messi. [Argentina's world champion soccer player.]
"Yeah…" he went on, after a moment of reflection… "it's nice here…but only if you have dollars."
Gresham's Law in Action
We confirm that a person with dollars can live well on the pampas. Our last night in Buenos Aires, for example, we went to the very popular restaurant, Fervor, in Recoleta. The place was packed with foreigners and locals. No wonder; the meat was among the best we ever had. And with a good bottle of wine from Mendoza, the meal…the service…the ambiance – all were near perfect.
A popular restaurant in a capital city is bound to be expensive. Compared to our dining in Salta, it was expensive. But at $30 a person, compared to prices in New York or London, it was an incredible bargain.
And that is true of many things – not tractor parts! – in most of the country. Almost everything is cheap…in dollars exchanged at the black-market rate.