The Empire never sleeps; its surveillance, suppression and militarism are 24/7. From Caitlin Johnstone at caitlinjohnstone.com:
There's a lot happening in the life of the empire, so we're doing another multi-story article to wrap it all up. Today we're discussing four stories:
Facebook is censoring multiple articles by Seymour Hersh.
Weapons industry-funded think tank helps Congress discover that Taiwan needs way more weapons.
The New York Times really, really doesn't like RFK Jr.
Twitter drops its "state-affiliated media" and "government-funded media" labels.
1. Facebook is censoring multiple articles by Seymour Hersh.
Facebook has begun censoring a Substack article by journalist Seymour Hersh which asserts that the US government, in coordination with Norway, was behind the bombing of the Nord Stream pipelines last September.
First flagged by author Michael Shellenberger on Twitter, this censorship is still occuring as of this writing some 36 hours later. If you try to share Hersh's article on Facebook, as soon as you paste the URL you get a notification which warns, "Before you share this content, you might want to know that there's additional reporting from Faktisk. Pages and websites that repeatedly publish or share false news will see their overall distribution reduced and be restricted in other ways." It also includes a link to a month-old article by Faktisk.no, a Norwegian "fact-checking" website produced in cooperation with Norwegian mass media and Norway's state broadcasting company NRK.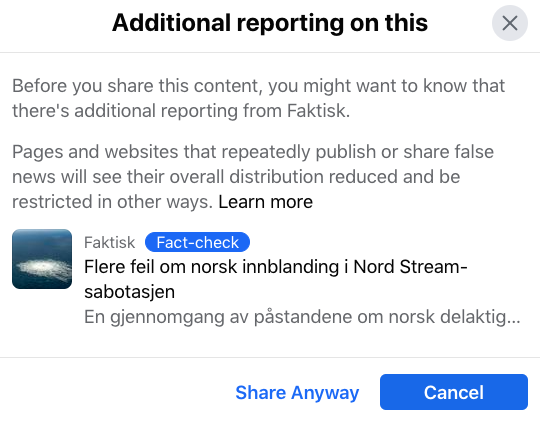 Facebook then gives you the option to "Cancel" or "Share Anyway". If you opt for the latter, Facebook censors the article by pixelating the share like they would for images of extreme gore or hardcore pornography, and attaching a giant warning label on it saying "False information. Checked by independent fact-checkers." Facebook does not explain how a "fact-checking" company which operates in conjunction with Norwegian state media can be regarded as "independent" regarding an article which explicitly accuses the Norwegian government of extremely egregious crimes.