If you borrow money to buy stocks, you make more on the upside and lose more on the downside. If, by some weird chance, the downside has not been abolished, corporations who borrowed money to buy in their own stock may find themselves in a bind. From Valentin Schmid at theepochtimes.com:
Not only individual speculators are all-in the stock market; companies are, too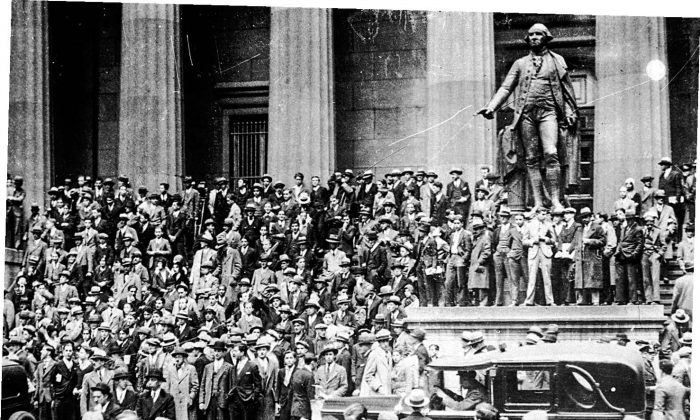 Let's say you have $10,000 in an account with your stockbroker. Under normal circumstances, you could buy up to $30,000 worth of stock with a $20,000 loan from the broker. Let's assume you are lucky and the stock goes up 50 percent. The position is now worth $45,000, and your equity has increased by $15,000 to $25,000. This means you can increase your position size again to $75,000 and buy more stock, because most brokers only require you to keep 30 percent of cash or stock as collateral.
This is why using margin is so powerful in a rising market and why margin debt in the accounts of the New York Stock Exchange (NYSE) has kept pace with the records in the S&P 500 and the Dow Jones industrial average, reaching an all-time high of $581 billion in November 2017.
In a falling market, the whole exercise becomes less fun, and speculators trading on margin were one of the reasons behind the vicious crash of 1929.
The biggest companies in the United States run the risk of ending up like speculators caught in a margin call.
Let's assume you just bought more stocks and your total position in company A was $75,000 with your initial cash outlay, with profits totaling $25,000, as in the example above.
If the market moves 10 percent against you, your position is worth $67,500 and your equity is worth $18,500, but the loan is still worth $50,000 and you are supposed to keep $20,250 as collateral. In order to make up the difference between your collateral value ($18,500) and the margin requirement ($20,250) of $1,750, you can either deposit more cash or sell some securities to decrease the margin position.
To continue reading: Stock Buybacks Are Nothing but Margin Speculation