How indebted are Americans? From Wolf Richter at wolfstreet.com:
It was one gigantic party. But wait…
Total consumer credit rose 5.4% in the fourth quarter, year over year, to a record $3.84 trillion not seasonally adjusted, according to the Federal Reserve. This includes credit-card debt, auto loans, and student loans, but not mortgage-related debt. December had been somewhat of a disappointment for those that want consumers to drown in debt, but the prior months, starting in Q4 2016, had seen blistering surges of consumer debt.
Think what you will of the election – consumers celebrated it or bemoaned it the American way: by piling on debt.
The chart below shows the progression of consumer debt since 2006 (not seasonally adjusted). Note the slight dip after the Financial Crisis, as consumers deleveraged – with much of the deleveraging being accomplished by defaulting on those debts. But it didn't last long. And consumer debt has surged since. It's now 45% higher than it had been in Q4 2008. Food for thought: Over the period, the consumer price index increased 17.5%: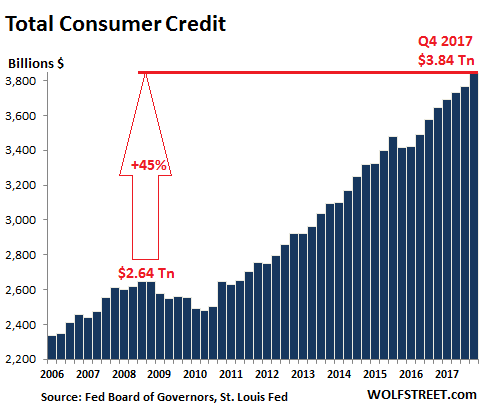 Credit card debt and other revolving credit in Q4 rose 6% year-over-year to $1.027 trillion, a blistering pace, but it was down from the 9.2% surge in Q3, the nearly 10% surge in Q2, and the dizzying 12% surge in Q1. So the growth of credit card debt in Q4 was somewhat of a disappointment for those wanting to see consumers drown in expensive debt.
The chart below shows the leap of the past four quarters over prior years. This pushed credit card debt in Q3 and Q4 finally over the prior record set in Q4 2008 ($1.004 trillion), before it came tumbling down via said "deleveraging."
To continue reading: