The shipbuilding industry is not in good shape. From MC01 at wolfstreet.com:
Years of "growth at any cost" led to accounting fraud, huge government bailouts, and murky restructuring plans.
Worldwide orders for newly built commercial vessels peaked in 2007 at 85.3 million Compensated Gross Tonnage (CGT) and have never recovered, despite the boom in the intercontinental maritime trade, especially with East Asia. After a historic collapse in 2016, orders ticked up in 2017, but to a still desperately low 20.2 million CGT (new shipbuilding orders via Sea Europe):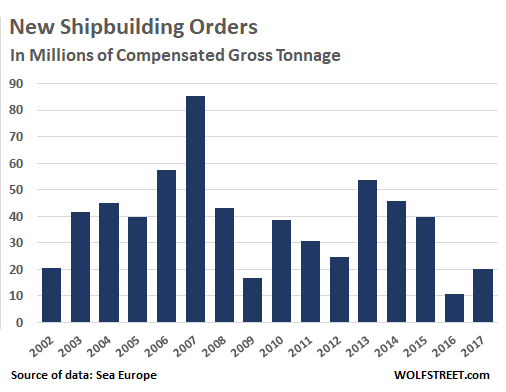 Three countries came to completely dominate this market as of 2017: China (34%), Korea (31%), and Japan (19%), according to Japan's Ministry of Land, Infrastructure, Transport and Tourism (MLIT), which also points at a major issue: overcapacity.
The shipbuilding industry has been plagued by overcapacity since 2010 and, with new competitors emerging in cheap-labor countries such as India and Vietnam, it seems oversupply will get worse over the next few years.
Nowhere is overcapacity more evident than in Korea, where shipbuilding alone accounts for 6.5% of the GDP and where the Big Three shipbuilders alone directly employ over 200,000 workers: Samsung Heavy Industries (SHI), Daewoo Shipbuilding and Marine Engineering (DSME), and Hyundai Heavy Industries (HHI).
To understand how important shipbuilding is for the Korean economy as whole, one only needs to look at Geoje Island, near the port city of Busan. Both DSME and SHI have their main shipyards on the island, in Okpo and Gohyeon respectively, and especially at Ulsan, where HHI's main shipyard, the world's largest by capacity, is located. Ulsan is also home to the largest car factory in the world by potential output, owned and operated by Hyundai Motor Company, a company belonging to the same chaebol as HHI.
The Hyundai Shipbuilding Division, as the Ulsan shipyard is officially known, can be considered the true poster child for the Korean shipbuilding industry: it represents its ambitions, successes, and now the many challenges facing it.
To continue reading: "Big Three" Korean Shipbuilders & Their Huge Shipyards in a World of Overcapacity and Collapsed Orders