The media has disgraced itself with Russiagate. From Craig Murray at craigmurray.org.uk: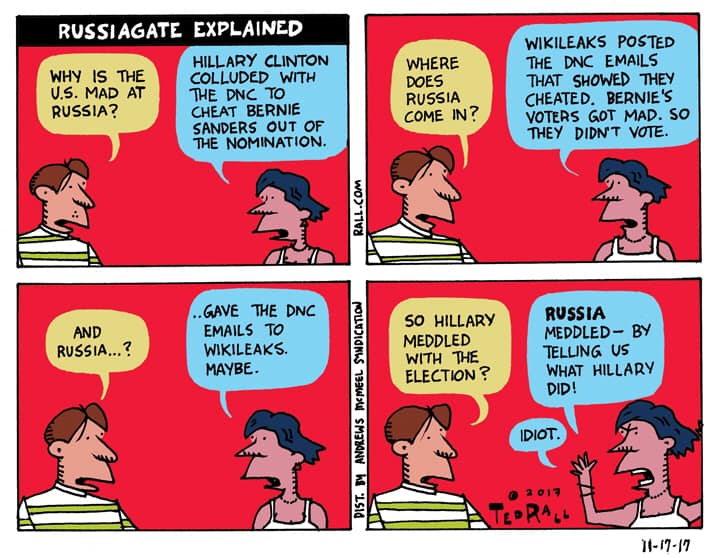 This cartoon seems to me very apposite. The capacity of the mainstream media repeatedly to promote the myth that Russia caused Clinton's defeat, while never mentioning what the information was that had been so damaging to Hillary, should be alarming to anybody under the illusion that we have a working "free media". There are literally hundreds of thousands of mainstream media articles and broadcasts, from every single one of the very biggest names in the Western media, which were predicated on the complete nonsense that Russia had conspired to install Donald Trump as President of the United States.
I genuinely have never quite understood whether the journalists who wrote this guff believed it, whether they were cynically pumping out propaganda and taking their pay cheque, or whether they just did their "job" and chose to avoid asking themselves whether they were producing truth or lies.
I suspect the answer varies from journalist to journalist. At the Guardian, for example, I get the impression that Carole Cadwalladr is sufficiently divorced from reality to believe all that she writes. Having done a very good job in investigating the nasty right wing British Establishment tool that was Cambridge Analytica, Cadwalladr became deluded by her own fame and self-importance and decided that her discovery was the key to understanding all of world politics. In her head it explained all the disappointments of Clintonites and Blairites everywhere. She is not so high-minded however as to have refused the blandishments of the Integrity Initiative.