The American oil and gas boom is imploding. From Wolf Richter at wolfstreet.com:
The American Oil Boom Was Where Money Went to Die.
The amount of secured and unsecured debts, such as loans and bonds, listed in bankruptcy filings in the third quarter by US oil and gas companies, at $34 billion, pushed the total oil-and-gas bankruptcy debt for 2020 to $89 billion, according to data compiled by law firm Haynes and Boone. And this nine-month total already surpassed the full-year total of oil-bust year 2016.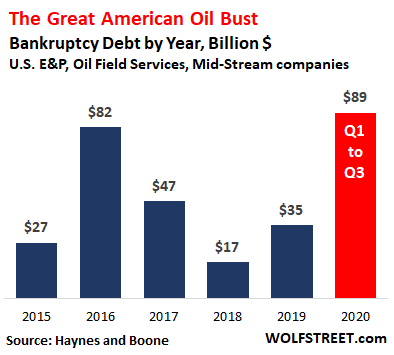 These are predominately exploration and production companies (E&P) and oilfield services companies (OFS) but also include some "midstream" companies (they gather, transport, process, and store oil and natural gas).
In mid-2014, the price of crude-oil benchmark WTI, which had been over $100 a barrel, started plunging. The companies involved in fracking couldn't even generate positive cash flows at $100 a barrel. And as prices plunged, all heck broke loose. Creditors and equity investors, after drinking the Kool-Aid for years, suddenly got scared, and new money dried up to service the old money. A slew of bankruptcies ensued among the smaller players, reaching a high in 2016. And people thought that was it, the oil bust was over, and new money started pouring back into the sector.