The US has been creeping towards socialism for decades. A Democratic victory would turn the creep into a gallop. From Robert Bridge at rt.com: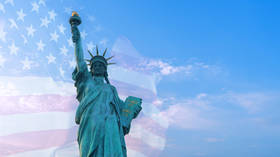 The final presidential debate between Donald Trump and Joe Biden highlighted what is really at stake: not the political fortunes of two politicians, but rather what a future America might look like.
Perhaps not since the Great Debates of 1858, between Abraham Lincoln and Stephen Douglas, which focused on the issue of slavery, has there been a political struggle of more epic consequence than the one raging right now in the US. That is not cheap hyperbole. The outcome of the 2020 election has the power to radically transform the nation – socially, culturally, and politically – to the point where it may become wholly unrecognizable in a very short time. I will leave it up to the reader to decide if that is a good thing or not.
On the debate stage, Trump and Biden may seem a lot like your typical American politicians, promising voters a paradise complete with paved roads and timely trains if they would just give them a chance. Behind the sloganeering of these two men, however, are vastly different blueprints for what a future America will ultimately look like.