Liberals are shocked, shocked, that Republican turncoats at the Lincoln Project turned around and betrayed them. From Tyler Durden at zerohedge.com:
Liberals are furious at  the 'never-Trump' super PAC, the Lincoln Project, which essentially bait-n-switched Democrats into giving them money to defeat Republicans, who then watched their party lose several House seats and fail to wrestle back control of the Senate.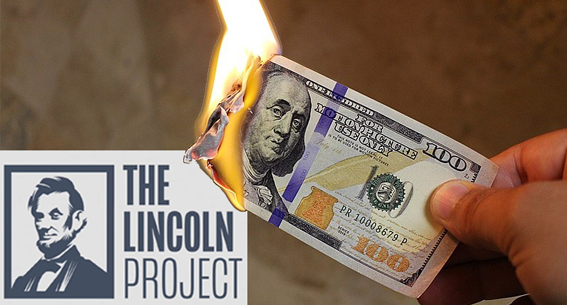 The Lincoln Project, co-founded by former McCain 2008 campaign manager Steve Schmidt, promised to win over "independent-leaning men, those college-educated Republicans, the suburban Republican women." They went on to raise at least $67 million, much of that from liberals. Yet, Trump went on to win more GOP votes in 2020 than he did in 2016.
As former Bernie Sanders speechwriter and Jacobin editor-at-large David Sirota and Andrew Perez write in the Daily Poster:
A group of longtime Republican operatives depicting themselves as anti-Trump stalwarts convinced liberals to give them more money for ineffective television ads and stunts than was raised by the Democratic Party's national campaign to win state legislatures.

The result: Donald Trump won more Republican votes than he did in 2016 as Democrats again lost state legislatures in advance of redistricting that could determine control of Congress for the next decade.

Meanwhile, the GOP operatives are reportedly positioned to go from lighting liberals' money on fire during the 2020 election to now using liberals' money to launch a media empire that could push a new Biden administration to the right.
Sirota told The Hill's "Rising" that the Lincoln Project was actually trying to secure a Biden presidency with a GOP-controlled Senate – as opposed to shifting GOP voters towards Democrats.