A substantial part of the US foreign policy establishment, including Biden, has never come to realize or accept that Vladimir Putin is never going to be another Boris Yeltsin. From Scott Ritter at rt.com: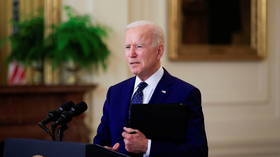 Joe Biden has announced a new wave of sanctions against Russia and signalled the potential for more. Biden's mouth is writing checks the US can't cash, and his latest tantrum is likely the last gasp of failed anti-Russia strategy.
Back in the Cold War, the US and Soviet Union wore "big-boy pants" – they understood the realities of the world they lived in and accepted the consequences of their respective actions like adults. Espionage was a given; when you succeeded, you kept your mouth shut, and when you were caught, you took your lumps in silence. What underpinned this approach was the kind of begrudging respect that professionals of equal stature afford to one another – each side had a job to do, and they got on with it.
Both sides were engaged in active propaganda, some overt, much of it covert. This ideological combat was waged in the battlefield of the minds of intellectuals and activists, who were entrusted to decide for themselves which brand of idealism they would embrace. The CIA underwrote such notable literary journals such as The Paris Review and Encounter, while Soviet efforts to infiltrate the Black Civil Rights movement and the anti-war movement of the 1960's are well documented. And yet, throughout this war of words, Kennedy somehow met with Khrushchev, Nixon and Carter with Brezhnev, and Reagan with Gorbachev. We opposed the Soviets, but we also respected them as worthy opponents.