Ivermectin works. From Justus R. Hope, MD, at thedesertreview.com: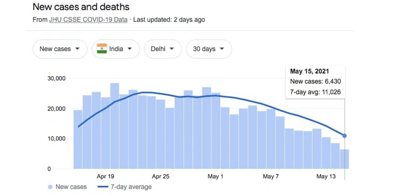 Delhi Cases Drop After Ivermectin Added
Just three weeks after adding Ivermectin, Delhi now leads India out of the deadly second surge of the COVID pandemic. Cases that had peaked at 28,395 on April 20 plummeted nearly 80% to just 6,430 on May 15. Deaths peaked May 4, and now they are also down 25%.
On May 10, the Indian State of Goa adopted an even more ambitious policy of preemptive Ivermectin for all adults in the state. The Chief Minister of Goa is Dr. Pramod Sawant, a progressive 49-year-old physician persuaded by science. In particular, he read Dr. Pierre Kory's  Dr. Tess Lawrie's and Dr. Andrew Hill's robust meta-analyses. As a direct result, Goa has seen a drop in cases from 3,124 the day after the announcement to 1,314 five days later.
Meanwhile, three other Indian states have followed Goa's lead in adding Ivermectin: Uttarkhand, Karnataka, and Uttar Pradesh. And, as expected, they have seen a drop in new daily cases as well, with Uttar Pradesh down nearly 75% from a peak of 37,944 just four days after they began following the April 20 AIIMS guidance to just 10,505 on May 16.
The tragic story in all this is that the Indian state of Tamil Nadu installed a new leader on May 7, 2021. He suddenly reversed their state's decision to adopt Ivermectin. Readers of my book all know about Peruvian President Sagasti's fateful decision to outlaw Ivermectin. Before taking power, the COVID deaths had dropped 14 fold to almost nothing with Ivermectin use. However after Sagasti was elected, Ivermectin was stopped, and deaths roared back at 13 fold.