Slowly but surely, Russia and China are cementing their dominance in Eurasia, and Afghanistan gives them more opportunity to do so. From Pepe Escobar at The Asia Times via zerohedge.com:
Shanghai Cooperation Organization's 'facilitate, not mediate' role could be the key to solving the Afghan imbroglio…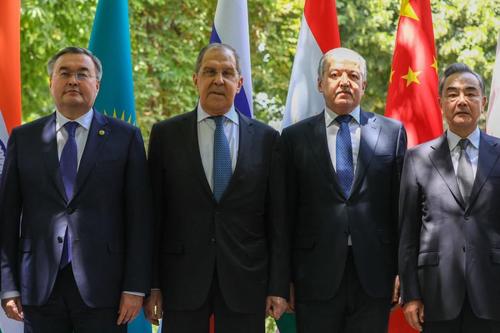 Kazakhstan's Foreign Minister Mukhtar Tileuberdi, Russian Foreign Minister Sergey Lavrov, Tajik Foreign Minister Sirojiddin Muhriddin and Chinese Foreign Minister Wang Yi pose for a family photo before a meeting of Shanghai Cooperation Organization (SCO) Contact Group on Afghanistan, in Dushanbe, Tajikistan. Photo: Russian Foreign Ministry / Sputnik via AFP
Shanghai Cooperation Organization meeting of Foreign Ministers on Wednesday in Dushanbe, the Tajik capital, may have been an under-the-radar affair, but it did reveal the contours of the big picture ahead when it comes to Afghanistan.
So let's see what Russia and China – the SCO's heavyweights – have been up to.
Chinese Foreign Minister Wang Yi laid out the basic road map to his Afghan counterpart Mohammad Haneef Atmar. While stressing the Chinese foreign policy gold standard – no interference in internal affairs of friendly nations – Wang established three priorities:
1. Real inter-Afghan negotiations towards national reconciliation and a durable political solution, thus preventing all-out civil war. Beijing is ready to "facilitate" dialogue.

2. Fighting terror – which means, in practice, al-Qaeda remnants, ISIS-Khorasan and the Eastern Turkestan Islamic Movement (ETIM). Afghanistan should not be a haven for terrorist outfits – again.

3. The Taliban, for their part, should pledge a clean break with every terrorist outfit.
Atmar, according to diplomatic sources, fully agreed with Wang. And so did Tajik Foreign Minister Sirojiddin Muhriddin. Atmar even promised to work with Beijing to crack down on ETIM, a Uighur terror group founded in China's western Xinjiang. Overall, the official Beijing stance is that all negotiations should be "Afghan-owned and Afghan-led."