The US's 17-year war in Afghanistan hasn't been an unmitigated blessing for the average Afghan. From Kathy Kelly at antiwar.com:
Here in Kabul in early June, outside the home of several Afghan Peace Volunteers, a large drilling machine is parked on what was once a lovely garden. To this now muddy patch, workers will soon arrive for another noisy, dusty day of digging for water. The well dried up a week ago. As of today, the household has no water.
Ongoing battles between militants, government forces, and international allies have destroyed much of Kabul's water infrastructure, forcing people to drill their own wells.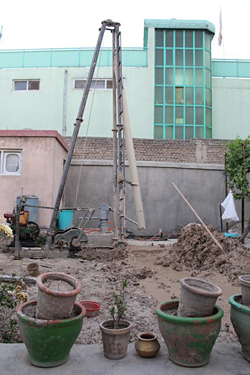 Across Kabul, numerous households face similar water shortages. With an average annual rainfall of just fourteen inches, Kabul's water table has been falling each year. The current population, estimated around 4.5 million, is expected to reach 9 million by 2050. The estimated groundwater potential is enough to supply only 2 million inhabitants with water.
Alarming reports say that drought now afflicts twenty-one of Afghanistan's thirty-four provinces.
Rural families in drought-stricken areas watch their crops fail and their livestock die of dehydration. In desperation, they flee to urban areas, including Kabul, where they often must live in squalid, sprawling refugee camps. In the city, an already inadequate sewage and sanitation system, battered by years of war, cannot support the soaring population rise.
Droughts in other countries have led to violent clashes and civil wars. It's difficult to imagine that Afghanistan, already burdened by forty years of war, will escape eventual water wars.
The most sophisticated and heavily armed warring party in Afghanistan is the U.S. military. Despite spending hundreds of billions of dollars on non-military aid to Afghanistan, the United States has done little to improve Afghanistan's infrastructure or alleviate its alarming water crisis. President Donald Trump's interest in what's happening under the ground in Afghanistan is focused exclusively on the US capacity to extract Afghanistan's mineral wealth, estimated to be worth trillions of dollars.
To continue reading: Afghans, Parched for Water, March for Peace