By now it's common knowledge, at least among the red-pilled, that naturally acquired antibodies are better than vaccinations. However, it's news when employees of one of the vaccine makers are caught on video admitting it. From Tyler Durden at zerohedge.com:
Three Pfizer scientists were recorded on undercover video by Project Veritas in the latest installment of their "Covid-19 Vaccine Exposed" series.
In a 10-minute video released Monday night, all three scientists agreed separately conveyed that natural antibodies produced following a Covid-19 infection are superior to the vaccine.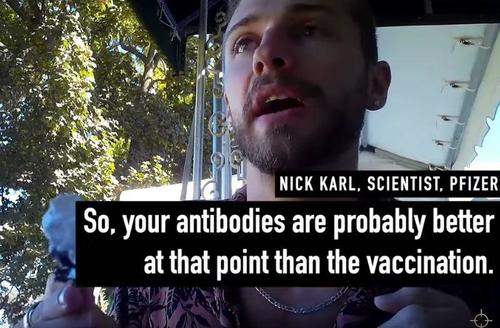 "When somebody is naturally immune — like they got COVID — they probably have more antibodies against the virus…When you actually get the virus, you're going to start producing antibodies against multiple pieces of the virus…So, your antibodies are probably better at that point than the [COVID] vaccination," said scientist Nick Karl. "The city [of New York] needs like vax cards and everything. It's just about making it so inconvenient for unvaccinated people to the point where they're just like, 'F*ck it. I'll get it.' You know?" he added.
Watch: